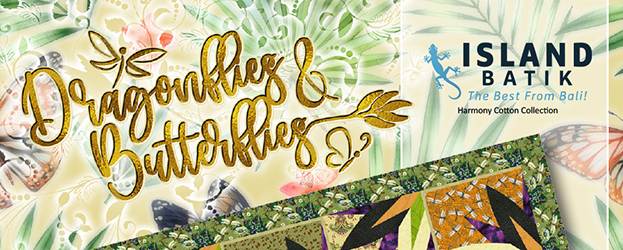 The Dragonflies & Butterflies layout includes foundation papers to make (16) 16″ Daisy blocks. The pattern was designed by Judy and Bradley Niemeyer and creates an introductory pattern that can be used to learn basic paper piecing techniques that can be applied to many of our other projects.
Expand Dragonflies & Butterflies to either a 99″ On-point Queen design using one of our 99″ on point borders, or a king-sized 108″ with the purchase of Replacement Papers or Expansion papers. There are enough papers in this pattern to make (1) 72″ or 68″Dragonflies & Butterflies quilt (depending on the border size you want to use). And, replacement papers are available if you want to try out a larger layout.
To Expand this design to a Queen, choose your 99″ Expansion border.  You will not need an introduction booklet for the expanded pattern because the instructions for expanding this quilt to the Queen size is included in the pattern.  To Expand to a King, purchase the Replacement/Expansion Paper package.  Instructions and yardage for the King Size quilt shown on the cover are included on Page 14 of your pattern.  Recommended yardages for expanded quilts are also shown in kitting sheets on this main page.  Please note that the Sunbeam Queen Expansion border was used in the 99″ quilt shown on the kitting sheet.  Yardage shown will only work if you choose this border and color layout.  To find yardage for your own colorway, you can always use Quiltster!  A link to the quiltster pattern you can color and create your own look for any of the sizes is provided below!
---

This pattern is available in Quiltster! This means you can color the quilt with your favorite fabric collections in Quiltster before you make it. Quiltster will even provide you with yardage!  You can also purchase kits designed by Quiltster Sellers right in the application!
Click on the Project button to access the pattern templates and begin coloring with fabrics uploaded from your stash and/or fabric collections from across the industry! A Quiltster account is required to use the coloring tool.  If you do not have a Quiltster account already, you will need to subscribe and log in before these links will work. Subscriptions can be obtained by going to http://www.quiltster.com, click on Subscribe!
If you'd like to purchase a kit from a Quiltster Seller, click the Marketplace button! A subscription is not needed in Quiltster to purchase a kit through the Marketplace.
---
Pattern Size: 68″ x 68″ and 72″ x 72″
Price: $65.00
Pattern Includes: Instructions, Cover Sheet, Yardage Information, Foundation Papers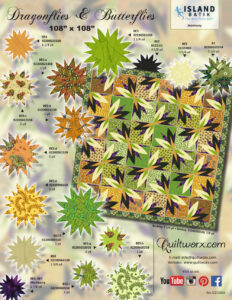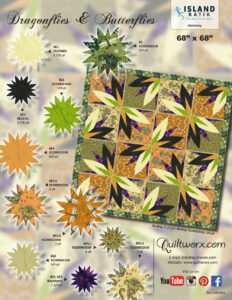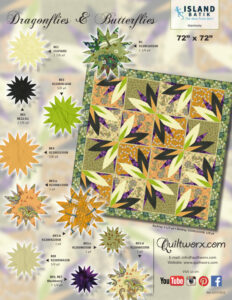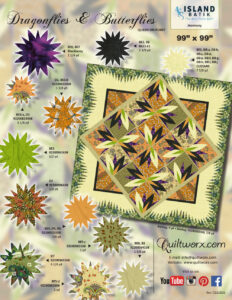 Related Products
Sorry, there are no classes scheduled for Dragonflies and Butterflies at this time.