The Cactus Rose, 2013 was designed by Brad and Judy Niemeyer as a redesign of the original Cactus Rose pattern published in 2006.  The updated pattern includes Template Layout Sheets to help keep the project better organized and speed up the cutting process.  It also included some minor re-drafting of a couple of the units to allow for floating points.  The color layout for the quilt on the coversheet is based on the use of the Hoffman Fabrics of California 1895 Collection.  Using rich batik solids that are available all the time makes this classic one that any person can quickly recreate as desired.
The colorway for the quilt was selected by Cristyn Merry, who also made and quilted the quilt on the coversheet!  Thank you Cristyn, for a wonderful take on a Quiltworx Classic!
A Queen Size Expansion Pack will be available soon, allowing you to increase the size of the quilt as desired.
Click below for a downloadable .PDF of various kitting handouts!
Pattern Size: 70″ x 70″
Price: $48.50
Pattern Includes: Instructions, Cover Sheet, Yardage Information, Foundation Papers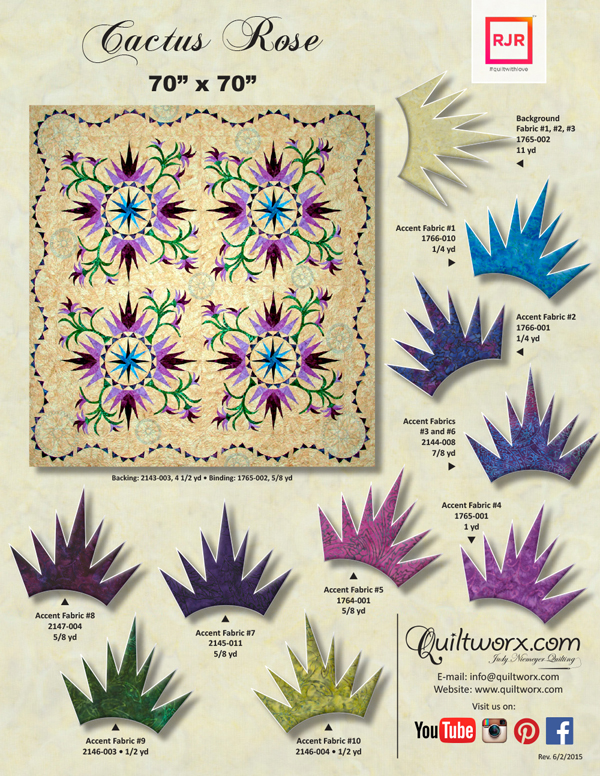 Related Products
Gallery
Quiltworx.com
2 years ago
Donna C Small
Is there a pattern one can buy for this quilt?
Dorothy L Sand
This looks different than Cactus Rose pattern.
Nancy Blankenship
All the different quilts you've shown on here are amazing.
Marsha Bradford
I am amazed by your talent. When did you start quilting. Are the hand quilted or machine?
Del Caskey
All these quilts you have shown us are unbelievable works of art
Jan Blank
Fantastic! So much talent..Beautiful
Crystal Marble
It's amazing
Lynn Feldman
Love the way the colors pop against the black
Patricia Fellows
Beautiful
Mary Chaco
I like the color pattern so like the desert
Kelly Smith
Just gorgeous
Войтова Галина
ВОСХИТИТЕЛЬНО !!!!!
Mary Verstraete
Stunning!
Marsha Pettigrew
Godrgeous.
Gay Goddard
I love the colors. Very dynamic!!
Sorry, there are no classes scheduled for Cactus Rose 2013 - DISCONTINUED at this time.