In 2015, Quiltworx released its first book called Geese Migrations, with 29 patterns, all using the same blocks, with layouts designed by our Certified Shops.  One of these quilts is called Always Chasing Rainbows, designed by Jannilou Creations.  When Quiltworx saw the Shibori Tye-dyed batiks by Anthology Fabrics, we immediately thought they would look amazing in the Always Chasing Rainbows pattern.  We took this opportunity to expand the size of the quilt to a Queen Size layout, showing the versatility of the book pattern and the information included therein.  We have published this layout as an expansion paper set to the original pattern.  You must purchase the Geese Migrations Book and the original set of Always Chasing Rainbow papers, plus the expansion papers to complete this design.
Click below for a downloadable .PDF of various kitting handouts!
Pattern Size: 84″ X 90″
Price: $45.00 (For the pattern and extension only)
Cover Quilt Made by: Certified Instructor Jodie Madison and Quilted by: Certified Instructor Tammy Doane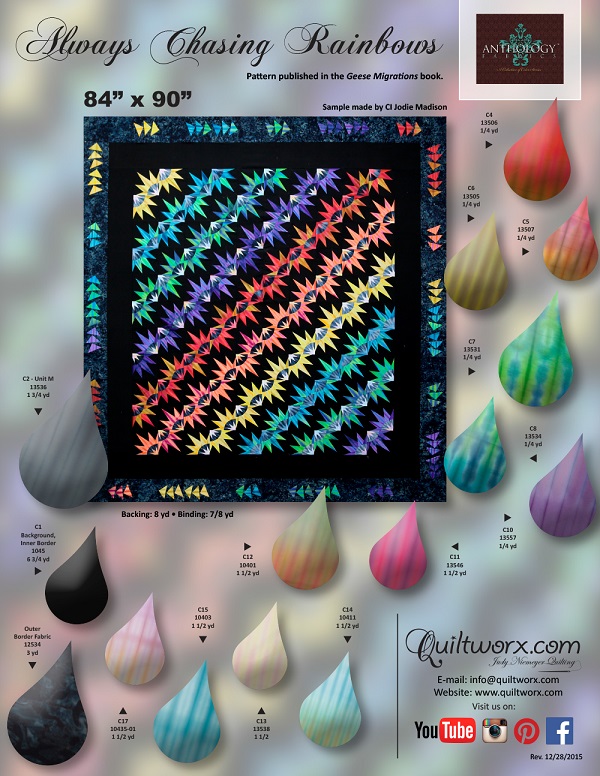 Related Products
Sorry, there are no classes scheduled for Always Chasing Rainbows Queen at this time.