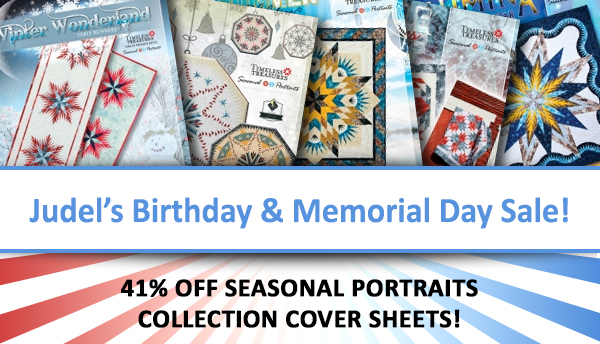 Before we talk about the fun of Judel's birthday, Quiltworx wishes to take a moment and extend a heartfelt thank you to those whom have left us during service for our country and the family members they have left behind. We are proud to be an American company with American products and American employees, many of us that have had or have family currently serving in the armed forces. The protection, security and successes that our country enjoys because of those who have died in service is simply something that can never be repaid.
Thank you.
---
HAPPY BIRTHDAY JUDEL!
Judel turns 41 on May 30th! To celebrate, we are transferring the tradition of Judy's Birthday Sale to Judel! We would like you to enjoy 41% off of the following patterns, all created from our Seasonal Portraits fabric collection.
Starts Friday, May 26th at noon (MDT)
through Tuesday, May 30th at noon (MDT)!
Click on the images below to be taken to the Pattern Purchase Page.
To purchase the pattern at the sale price once the sale begins, simply click on the button on each pattern page that says "add to cart".
Lumina Feathered Star
Originally $81.00
Qty: 75

Winter Wonderland
Originally $25.50
Qty: 50

Seasonal Gatherings
Table Topper
Originally $25.50
Qty: 50

Promise Ring & Charm Elements Pack #14
Originally $12.50
Qty: 10
(Doesn't include Creative Grids Diamond Wedding Ring Ruler which is required for this pattern.)

Rocky Mountain Bear Claw Table Runner & Pillow
Originally $25.50

Cactus Flower
Table Runners
Originally $28.00

Cozy Cabin Comforts &
Geese Migrations Book
Originally $18.50
Qty: 25

Maple Leaf Flurries
Originally $21.50

Prickly Pinecones Tree Skirt
Originally $34.00

Summer Solstice
Originally $30.00

Three Quiltworx.com
Leaf Series
Originally $21.00

Celestial Snowfall
Originally $44.50
---
Looking for fabrics from this collection?
There are definitely still fabrics available in these collections from shops across the US! Don't be afraid to contact your favorite Certified Shop to see what they still have available! The shops listed below have let us know they still have fabrics on their shelves and would be happy to help you with kitting any of the patterns you might purchase as a part of our sale!
Quilting by the Bay
Wish Upon A Quilt
Lollipops
---
Want to try the fabrics out in Quiltster?
Many of the patterns in our sale are available for you to test colorways in Quiltster! The Seasonal Portaits Fabric Collection is also available for you to use! Check out the following layouts in Quiltster to plan your perfect Seasonal Portraits Colorway. Subscription is required.
Celestial Snowfall (Click on the Snowfall Mixer to find the Template for Celestial Snowfall)

Maple Leaf Flurries

Summer Solstice

Cactus Flower Table Runner

Prickly Pinecones
---
Quantities
Some quantities are limited to what is currently in stock. When applicable, the available quantity is listed below the pattern. Many of these designs may be off the market for a brief period, so don't delay!
---
Shipping Information
All U.S. orders will be shipped Priority Mail. Shipping prices will start at $8.15 and go up from there or UPS, if chosen.

All Canadian Postage will start at $25.45 and go up from there.

All other Foreign orders will start at $35.45 and go up from there.
Due to the number of orders we process during a sale, we will not be notifying everyone of their shipping charges before we process their orders. By placing your order, you are agreeing to pay the necessary shipping charges, as outlined above.