Bio
Jackie has been a quilter since 1993 and has owned her own business, Canton Village Quilt Works since 2000. Beginning her business as a long arm quilter and then in 2009 adding an online quilt fabric shop! She has also been a quilt designer for magazines and fabric companies since 2009, a quilting Podcaster – Jackie's Quilting Chronicles, and a Certified Quiltworx.com (Judy Niemeyer) instructor and shop. She has been making Quiltworx patterns since the early 2000s! Jackie travels throughout the country to lecture, do workshops and trunk shows. Jackie's first book was published in September, 2015 by Martingale & Co titled Splash of Color: A Rainbow of Brilliant Black and White Quilts. Jackie is also a Craftsy Instructor with an online class that launched in August of 2015 and a second class launched in March, 2016. Also, Jackie has her own line of published patterns in 2015, with more to come!  In 2016 Jackie began designing fabric for Island Batik as well as the patterns that will go with the fabric!!! The first line will be launched at Quilt Market October 2016. Please visit Jackie at her website: www.cvquiltworks.com to keep up to date.
Join Jackie in one of her Quiltworx workshops or lectures!  Or get in touch to schedule one!!
1. Lecture and Trunk Show information: http://cvquiltworks.com/pages/lectures
2. Quiltworx Workshops: http://cvquiltworks.com/pages/lectures
3. Splash of Color Workshops: http://cvquiltworks.com/pages/lectures
4. Jackie's Schedule: http://cvquiltworks.com/collections/events
5. Published Designs: http://cvquiltworks.com/pages/published-designs
6. Pattern Line: http://cvquiltworks.com/collections/patterns/jackie-kunkel
7. Facebook Page: https://www.facebook.com/Canton-Village-Quilt-Works-355001000860/?fref=ts
8. Flickr: https://www.flickr.com/photos/jackiequilts/
9. Craftsy: http://www.craftsy.com/search?query=jackie+kunkel&type=&categoryUrl=quilting
10. YouTube: https://www.youtube.com/user/CVQuiltworks/feed
11. Pinterest: https://www.pinterest.com/jackiequilts/
12. Podcast: http://cvquiltworks.podbean.com
13. Google+: https://plus.google.com/113804100055462066403/posts
14. Bloglovin: https://www.bloglovin.com/blogs/canton-village-quilt-works-blog-11716833
Click on the images below to find Jackie's gallery of quilts on Facebook!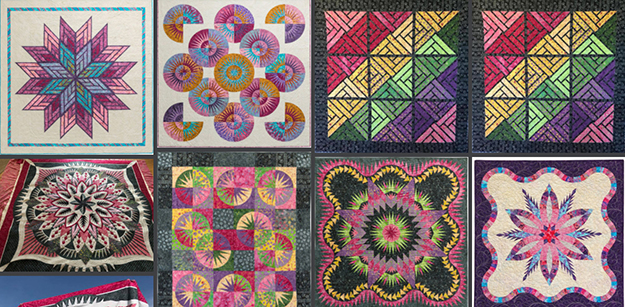 Sorry, there are no classes scheduled for Jackie Kunkel at this time.