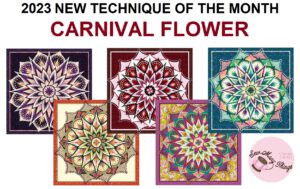 Anything Judy Teaching Retreat – 4-day Retreat at the Chesaning Retreat Center in Chesaning MI with Certified Shop Instructors Patti Mitrowski, Nancy Dufoor, & Kathi Sweet
Have a Judy Niemeyer pattern or any Technique of the Month Block including the new Technique of the Month "Carnival Flower"  you want to start or complete, bring it and we will help you with it.
The Carnival Flower TOM is a Brand new Technique of the Month. The quilt is beautifully designed and sews together very nicely.
Check out some of the samples of the new Coral Reef Technique of the Month Pictures.
We are also happy to help color the quilt and even cut the quilt pieces for you for an additional fee. Call the store for details.
Interested, click here to register.
Sew Many Things is a Judy Niemeyer Certified Shop: www.sewmanythingssc.com