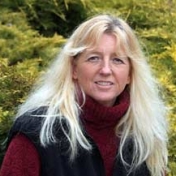 Judy Niemeyer


100 Lincoln Lane
Kalispell, MT 59901
Glacier Pines Instructions
Glacier Pines
Judy Niemeyer Quilting
www.quiltworx.com
Pre-Class Instructions for Glacier Pines: Two-day or Three-day Workshop: Purchase your Pattern and select your fabrics. The yardage amounts are listed on the back page of your pattern. You may want to set up a color cart to match the 5 background fabrics shown in the yardage chart. You do not have to use 5 background fabrics in your quilt but you do need to realize, if you combined the colors for the background fabrics you need to combine the cutting instructions too. The cutting instructions are designed to use 5 colors.
To complete the cutting that is required for class you will need to follow the cutting directions in the pattern. Below is a list of what I want ready for class. If you haven't completed the cutting requirements listed on this page you will spend most your time in class cutting and worrying about catching up. So please have the papers, templates, and fabrics ready according to the list below. If you have taken a class from me in the past and you understand the cutting process then feel free to continue and cut out the whole quilt.
Foundation Papers: The foundation papers used in this pattern are also used in other patterns that our company has already published. For this reason, the units will not always follow each other in alphabetical order. This quilt has (4) different foundation units. They are listed as Unit-H, Unit-CG Unit-GPS, and Unit-HS.
Prepare the foundation papers by trimming the excess paper from around the outside cutting line, approximately 1/8". It is much easier to position the fabric under the foundation paper when the excess paper has been trimmed away. You only need to cut out one page of foundation papers for each unit. Place a large paper clip on each group to keep the units together. I will be demonstrating a fast way to cut out these papers in class, so do not waist your time cutting everything out one at a time.
Templates: How to make the templates: Photocopy the template pages on 11" by 17" paper. It won't hurt to have a couple copies of the template page. Take your patterns with you to get your copies. Some places are a little sticky about making copies on my patterns. Caution! Always check your templates for accuracy after photocopying or scanning to the original templates in the pattern.
Cutting Information: Follow the cutting instructions in your patterns to complete the list below. You don't need to crosscut the strips or rectangles into the individual template sections before class. I will go over this in class and my demonstration will save you hours of work. If you have taken a class from me before feel free to proceed cutting the strips and rectangles into individual pieces.
Unit-H: Place Template H-1, Template H-2 and 16 foundation papers for Unit-H into Bag #1, along with the following fabric strips.
Template H-1: Cut two (2) 6-1/2" by 42" strips from background fabric #1.
Template H-2: Cut three (3) 5" by 42" strips from background fabric #1.
Template H-Spike: Cut (1) 7" strip from the ten different medium and dark fabrics. We will divide these pieces in class.
Unit-CG: Place Template CG-1, Template CG-2, Template CG-3 and 16 foundation papers for Unit-CG into Bag #2 along with the fabric pieces listed below.
Template CG-1: Cut thirty-six (36) 6" squares from the dark fabrics for your geese.
Template CG-2: Cut six (6) 4" by 42" strips from background fabric #2.
Template CG-3: Cut seven (7) 3-1/2" strips from background fabric #2.
Note: A correction was made in the instructions for both CG-2 and CG-3 Templates. Check this correction on my web page under the correction button. The strips listed above are the correct sizes.
Unit-HS: Place Template HS-1, Template HS-2 and 36 foundation papers for Unit-HS into Bag #3, along with the following fabric strips.
Template HS-1: Cut three (3) 5-1/2" by 42" strips from background fabric #3.
Template HS-2: Cut three (3) 5" by 42" strips from background fabric #3.
Unit-GPS: Place Template GPS-1, Template GPS-2 and 40 foundation papers for Unit-GPS into Bag #3 along with fabric pieces listed below.
Template GPS-1: Cut five (5) 4" by 42" strips from each background fabric #1, #2, and #3.
Template GPS-2: Cut two (2) 4" by 42" strips from each of the ten different medium and dark fabrics.
Center Template JFF-4: Place these pieces cut from fabric #4 into Bag #5.
It is not important that you finish cutting the fabric pieces for the Border Corner Squares, Background Strips for Applique, Vintage Pinecone Fabric, and Border Strips before class. We may not get to these pieces in class.
General Supply List:
Steam iron
Ironing board
Medium size cutting board
6" by 24" ruler
Small scissors
Size 60 rotary cutter with a new blade
Seam ripper
Template plastic
Surge protector
Extension cord
Sewing machine with a quarter inch foot.
Paper Piecing Supply List:
12" Add-a-quarter ruler
Scotch tape
Washout fabric glue stick
Flower pins
Large Ziploc bags
Small Ziploc bags
Stapler
Purple Thang
Size 70/10 microtex sharp sewing needles
20 or 30 large binder clips
High-quality cotton thread (poor thread has a tendency to break when removing the paper).
If you own the large 60mm rotary cutter bring it. Make sure you have a new blade on your cutter before coming to class.
In this class you will have the opportunity to learn some of the techniques that I teach and write about in my patterns. I teach a speed cutting and speed-piecing process for foundation paper piecing that involves chain-piecing. This process is possible because the fabrics have been pre-cut using templates designed for foundation paper piecing.
Extra foundation papers are available for this quilt. The information needed to order extra foundation papers can be found on my web page. If you would like to have the extra foundation papers available to you before class they can be ordered and purchased from your local quilt shop or on-line through Judy Niemeyer Quilting.
If you have any questions regarding this class, please contact your instructor directly. Contact information for Judy and her Certified Instructors is available on our website at http://quiltworx.com. Please include your correct email address, phone number, and name. You may also want to check out our website www.quiltworx.com and our facebook page quiltworx.com prior to selecting fabrics. There are many samples, slide shows, and color-changing quilts available for you to enjoy. We also have corrections and helpful hints posted for most of the patterns we have published.
Judy Niemeyer and the Certified Instructors
Judy Niemeyer