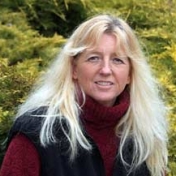 Judy Niemeyer


100 Lincoln Lane
Kalispell, MT 59901
Christmas Celebration Tree Skirt Instructions
Celebration Tree Skirt
Judy Niemeyer Quilting
www.quiltworx.com
Pre-cutting the fabrics is a mandatory requirement prior to taking this course. Please begin preparing for class at least 3-WEEKS prior to the class to make sure that you are able to get the pre-cutting completed before hand. This process will take you from 8- to 12-hours to complete, which does not count the time spent at the fabric store selecting the fabrics to use in the quilt. If this step is not completed, you will have a very difficult time keeping up and participating in the instruction. I do not want anyone to feel as though they have wasted their money and time.
Christmas Celebration Tree Skirt: This is a three-day class intended to teach you the process of foundation paper piecing. You will need to purchase a copy of the pattern listed above for this class. The patterns include the yardage instructions, template making instructions, and the foundation papers. Read your pattern prior to class.
Organization: Organization is the key to making this tree skirt. Prior to class, it will be your responsibility to cut out the entire tree skirt and all of the foundation paper units. Please pay special attention in the pattern to instructions regarding grouping the particular foundation units and pieces together to make this quilt. It will save you a considerable amount of time and effort.
Selecting your Fabrics: The yardage amounts and color are listed on page 16 and page 13 (depending on the color layout preference as shown on the cover sheet) of your pattern. Alternative fabrics can be selected as well. It is important to make sure, however, that general tones and qualities of the selected fabrics match those shown in the tree skirt of your preference.
Templates and Foundation Papers: To cut your foundation papers and templates, refer to pages 2 and 3 of your cutting instructions, beneath the headings 'Prepare Your Foundation Papers', and 'Preparing the Templates and Template Layout Sheets'. This will need to be done before you cut out your fabrics.
Fabric Cutting Instructions: There are separate instructions for each of the samples shown on the cover sheet. Make sure to select the correct Cutting Instructions!
Sample 1 Cutting Instructions begin on page 3.
Sample 2 Cutting Instructions begin on page 5.
Complete the cutting for each unit and organize according to the directions in the pattern. Bring them to class. The binder clips listed in the class supplies are used to clip the templates and fabric pieces together. They work great! I use both medium and small binder clips for this tree skirt.
The following items will be used in class:
Sewing Machine with a quarter-inch foot and Accessories
Steam Ironing Board
Two pieces of Template Plastic (3″ by 18″ piece and 3″ by 12″ piece)
12″ Add-a-quarter ruler
18″ Add-a-quarter ruler (optional)
Purple Thang (optional)
6″ by 12″ ruler
Medium size cutting mat (18″ by 24″)
Rotary cutter 45mm or 60 mm
New rotary blade
Size 70 needles (Microtex recommended)
Scissors
Seam ripper
Surge protectors
Extension cords
Fabric glue UHU stic
Glue Pen (Fons and Porter, Sewline, or Avery recommended)
High quality cotton sewing thread
Flower pins
Scotch Tape
Large Ziploc Bags
Stapler
Binder Clips
Large Paper Clips
If you have any questions regarding this class, please contact your instructor directly. Contact information for Judy and her Certified Instructors is available on our website at http://quiltworx.com. Please include your correct email address, phone number, and name. You may also want to check out our website www.quiltworx.com and our facebook page quiltworx.com prior to selecting fabrics. There are many samples, slide shows, and color-changing quilts available for you to enjoy. We also have corrections and helpful hints posted for most of the patterns we have published.
Judy Niemeyer and the Certified Instructors