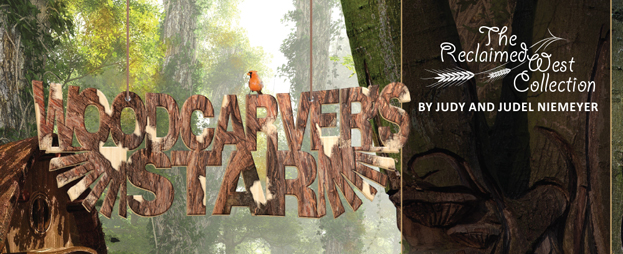 Woodcarver's Star: This design was inspired by the Reclaimed West Fabric line Designed by Judy and Judel Niemeyer with Timeless Treasures and is designed for foundation paper piecing by Bradley and Judy Niemeyer. This instructions will teach you an new technique  (developed in 2014) that expands on our traditional foundation paper piecing approach using strip-piecing to complete lone star units.   To complete the stars, strips are sewn onto foundation paper to complete what we call a 'Strip Set'. After the strip sets are completed, they are cut apart, rearranged, and resewn into a diamond star point. The technique evolved from seeing some common assembly approaches between the Summer Solstice and Bali Fever Backgrounds.  Judy began experimenting with ways to speed up the creation of a lone star block with a strip to eliminate cutting, while also minimizing fabric waste. The Woodcarver's Star is a Queen Version of the block used in Prismatic Star.  It can be completed with 2-1/2" strips, and has been designed without Y-Seams.  It incorporates the windmill block developed with the Reclaimed West fabric collection and it is Judy's first Broken Star Quilt Design.  Requiring just under 21 Yards of fabric, this Queen-Size quilt may be one of the most efficient Queen designs Quiltworx has ever published.  The quilt on the coversheet was pieced and quilted by Quiltworx staff and one of our Certified Instructors, Diana Simkins.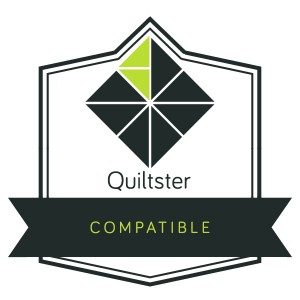 This pattern is Quiltster Compatible! This means you can color the quilt with your favorite Fabric Collection in Quiltster before you make it and obtain yardage! Click on the logo to the left to be taken directly to the Template page for this design in Quiltster. You may need to log into your account for the link to work. If you do not have a Quiltster account already, you will need to subscribe and log in before this link will work. Subscriptions can be obtained by going to http://www.quiltster.com, click on Subscribe!
Click below for a downloadable .PDF of various kitting handouts!
Size: 99″ x 99″
Price: $58.50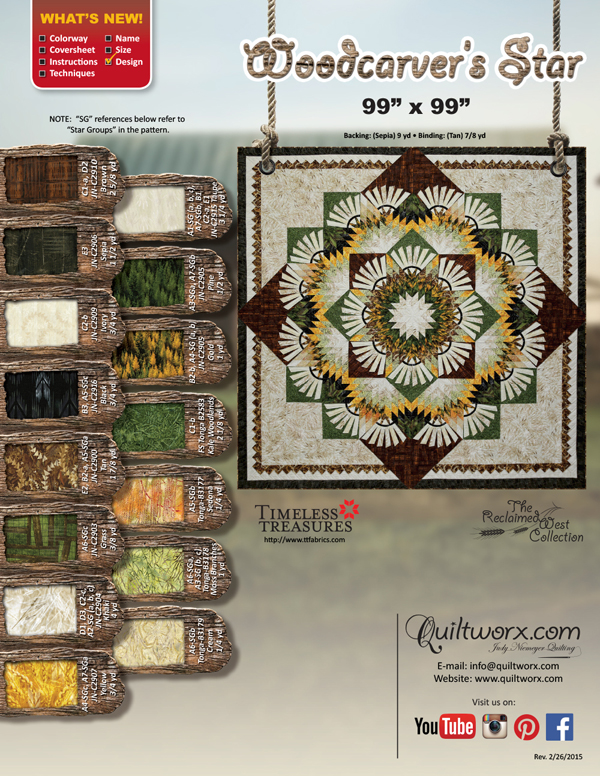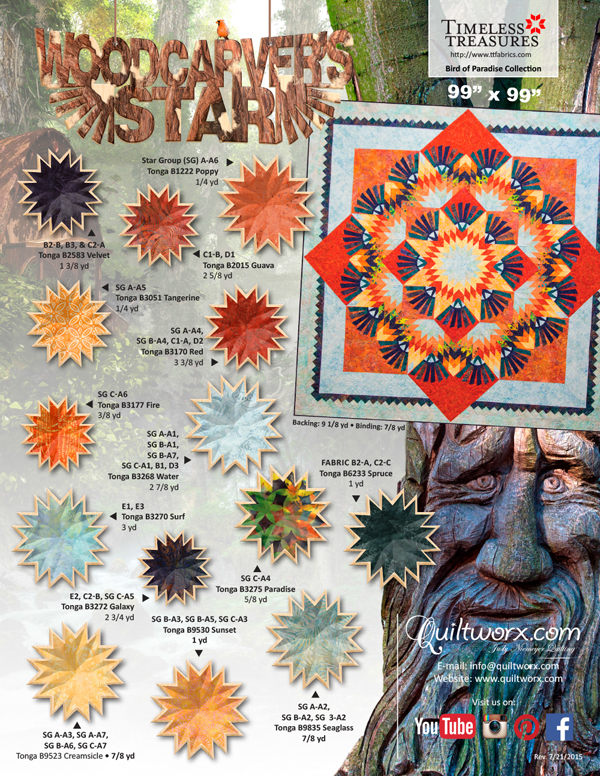 Related Products
Gallery
Quiltworx.com
Woodcarver's Star, Quiltworx.com, Made by Mary Strange Prater
Carol Chapman Britt
I got an okay from Mary Strange Prater who made this gorgeous quilt to make kits. She pulled most of the fabrics from her stash so it will be our interpretation with current batiks. Yea! Just email for a custom order. info@batiks.com Carol
Sharon Rhudy
Carol, I think this is my next one, I have the pattern!
Suzanne Lindsay
Call batiks etc in Wytheville Va. They do custom Judy kits all the time and have a great fabric selection. Carol Chapman Britt
Janet Greiner
Yes, I would like this one also.
Barbara Liptrott Dole
Is this quilt available in a kit using the same colours and what is the size?
Colleen Johnson Gatehouse
Beautiful love the colours
Donna Maheux Hayes
I absolutely love the colours in this quilt!!
Carol Chapman Britt
We can do a custom version like this. Just call or email Batiks Etcetera and Sew What Fabrics. Www.batiks.com. 800-228-4572
Brenda Clark
This is the most beautiful quilt I've ever seen!!!! Would like to know if it's complicated?
Ellen Knickerbocker
I would also like a kit of this
Karen Brinsden
Can you purchase this pattern and fabric selection as a kit please?
Terry Maestas
We have the pattern
Deb McGuire
Very pretty!!!
Silvia Fisher
Very beautiful
Linda Courtney
Love the colors.
Marlyn Barglof
Beautiful!!
Kat Daniels
Kerrilyn Tomkins Ann Smith I llike this!
Valerie Wilkerson
Flo Harris
Rayetta Lopez
Barbara Lopez
Fergie Chow
Rayetta Lopez