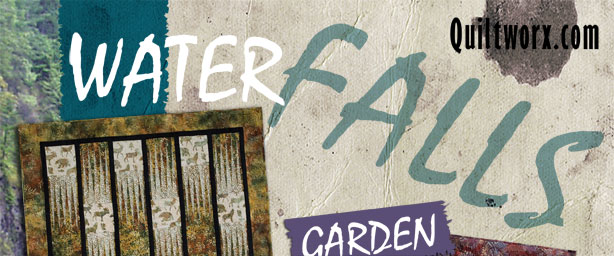 The layout for the Waterfalls series was designed  by Judy and Bradley Niemeyer. The block for the Waterfalls quilt was designed to teach a simple concept using two strips of fabric to create one very simple and appealing block design. This pattern includes, easy cutting instructions using 2-1/2″ by 42″ strips, and foundation paper. This quilt was designed for all skill levels  making this a fun and easy quilt for any beginner or advanced quilter to make up in just a few days. A special thanks to Hoffman Fabrics of California for providing us with the fabrics to make the quilts shown on the cover page.
Related Products
Gallery
Quiltworx.com
5 years ago
Yes Caroline Wang it's us. This was made by Naomi in one of my classes
This Palm Beach Quilting in Melbourne?
Live is Oregon, Is this a paper pieced pattern? is the pattern on line for sale. Beautiful colors.
Awsome so cool with all the colors I just love quilts, I still want in on the raffle.
Where Is Palm Beach Quilting? We drive up to Melbourne from Palm Beach Gardens all the time and have never heard of it!!!! Please tell!
Beautiful!
I'm working on my 9-Patch version again .... finally. Anxious! :0)
Lovely colors!