Tea Time Placemats is another of the patterns to be released this summer from the new line of Leaf designs!  Cute, fun, small, fast, and striking, these little leaves are sure to impress at any tea time gathering!  Quiltworx.com completed four placemats, complete with quilting, in less than a day.  These also use our newest paper piecing technique, called Curved Paper Piecing, to add the vein element of the leaf.  With a simple binding around the shape of the paper pieced element, these little leaves can be hung on a wall in a collage, or placed on a table as a feature element.  You can also create a background and applique the leaf to the top, if you like!  The Seasonal Portraits fabric collection was used to make the placemats shown on the cover. We have already put together a few different colorways and expect to see leaves galore submitted to us in a million different colorways.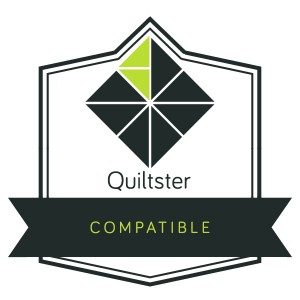 This pattern is Quiltster Compatible! This means you can color the quilt with your favorite Fabric Collection in Quiltster before you make it and obtain yardage! Click on the logo to the left to be taken directly to the Template page for this design in Quiltster. You may need to log into your account for the link to work. If you do not have a Quiltster account already, you will need to subscribe and log in before this link will work. Subscriptions can be obtained by going to http://www.quiltster.com, click on Subscribe!
Click below for a downloadable .PDF of various kitting handouts!
Pattern Size: 11″ x 22″
Price: $20.50
Pattern Includes: Instructions, Cover Sheet, Yardage Information

Related Products
Gallery
Quiltworx.com
1 year ago
Diane Payne
I love this placemat but am having problems putting the vein in properly. Looks like a step is missing and vein is too wide. Followed all the instructions. What am I doing wrong? Please help! Thank you.
Sharon Alvey Cullison
I had fun making my placemats
Ruth Johnson
Love this😊😊😊!!!!
Audrey Pratt
They are so pretty!