Redefining the way we make log cabins, this pattern is the first in a very long line of paper pieced log cabin quilts by Judy Niemeyer!  Why paper piece a log cabin, you ask?  Well, the answer, quite simply is speed cutting, speed piecing, and unbelievable accuracy!  If you love Log Cabin Quilts and have made more than one in your life, we urge you to check this one out!  You won't regret it!
Click below for a downloadable .PDF of various kitting handouts!
Pattern Size: 56″ X 70″
Price: $33.50
Pattern Includes: Instructions, Cover Sheet, Yardage Information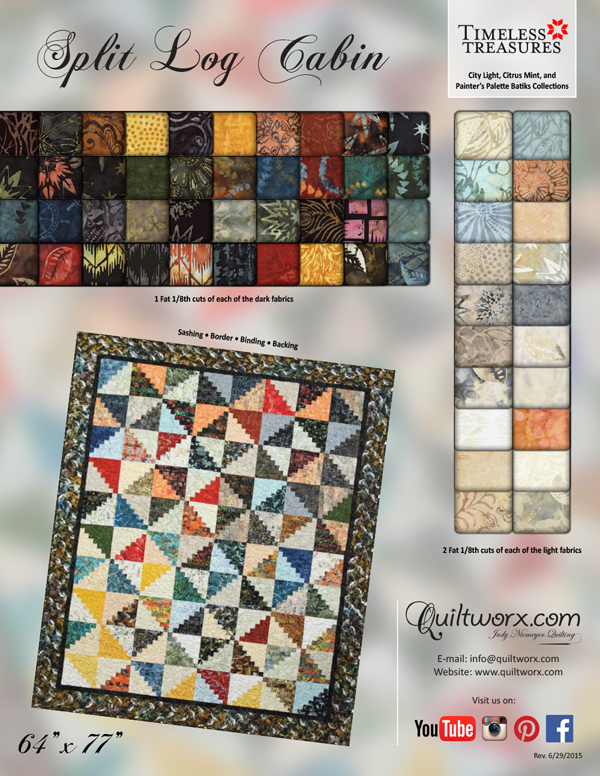 Gallery
Quiltworx.com
Another BEGINNER quilt created with our three new Batik Collections! This design uses all three batik collections in one quilt! It requires 1/8th Yard cuts of all the darks (a total of (40)), and (2) 1/8th Yard cuts of all the lights in the collections (a total of (20))...All (60) batiks are used in one design, for a fun layout in a great beginner project! Borders and Sashing are extra. Additional Kitting Information and some great photography of this design will be provided soon! Patterns available now. :-) Timeless Treasures Fabrics, Inc.
Cassie Marshall
Judel will you all be labeling your patterns as beginner, intermediate and advanced now? (Or have I missed that they are already labeled like that 😊). I see so many people that want to paper piece but are intimidated.
Bear Creek Quilting Company
♡♡♡