The Solstice Wall Quilt is a mixer pattern from Quiltworx with a variety of blocks designed by Bradley and Judy Niemeyer that can be mixed and matched with each other to create a quilt layout at 60" x 60" that is unique to you! A software platform called Quiltster is required to mix and match your blocks. Youc an also audition fabrics in your own preferred colorway to get yardage information for your project. The Solstice Wall Quilt has three groups, Group A, Group B, and Group C that you must choose mixer blocks for. Foundation papers and instructions for each block will be included in your pattern as separate booklets. When you receive your pattern, go through each booklet to make sure you have all of the newsprint and papers your ordered.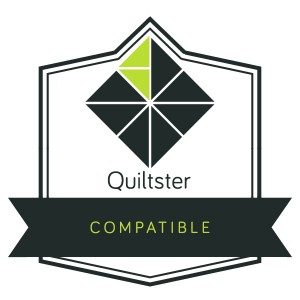 This pattern is Quiltster Compatible! This means you can color the quilt with your favorite Fabric Collection in Quiltster before you make it and obtain yardage! Click on the logo to the left to be taken directly to the Template page for this design in Quiltster. You may need to log into your account for the link to work. If you do not have a Quiltster account already, you will need to subscribe and log in before this link will work. Subscriptions can be obtained by going to http://www.quiltster.com, click on Subscribe!
Sorry, there are no classes scheduled for Solstice Wall Mixer at this time.