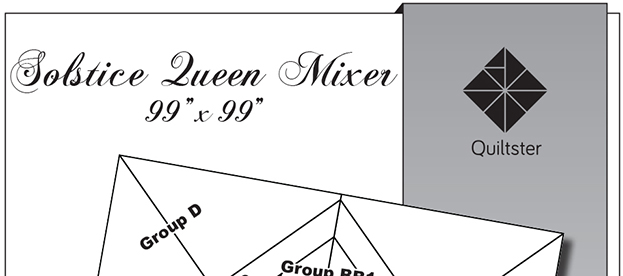 The Solstice Queen Mixer pattern creates a queen size quilt layout that can be filled with a wide range of Quiltworx designed blocks including Diamonds to create a lone star in the center, 10" squares, and a variety of border options. This quilt requires the use of Quiltster, a block and fabric auditioning software available at http://www.quiltster.com.
If you have purchased this booklet and did not use Quiltster to design your quilt in advance, you will want to do so. Quiltster will give you yardage for the combination of blocks and fabrics you want to work with. Find the Solstice Queen Mixer, choose the blank layout, and get started! The center diamond you will choose is 26.13" from end to end, creating a center star about 54-1/4" in diameter. This star is the same size as the Diamond blocks in Amazon Star, Congo Star, Tarnished Windmill and Red River Star. There are many different options for the center star. A 10" square block fits into the corners of the center star. We have several options available for this block as well. There are also several different C-Borders and Queen Expansion options. With all the currently available options, there are over 1,400 different combinations of blocks available for creating another Queen size quilt using this layout. I am certain that in the future, additional designs will be available as well.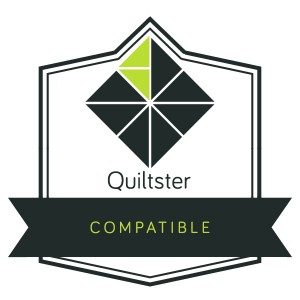 This pattern is Quiltster Compatible! This means you can color the quilt with your favorite Fabric Collection in Quiltster before you make it and obtain yardage! Click on the logo to the left to be taken directly to the Template page for this design in Quiltster. You may need to log into your account for the link to work. If you do not have a Quiltster account already, you will need to subscribe and log in before this link will work. Subscriptions can be obtained by going to http://www.quiltster.com, click on Subscribe!
Sorry, there are no classes scheduled for Solstice Queen Mixer at this time.