Judy and Bradley Niemeyer, with Quiltworx.com, designed the foundation blocks used to make the Osprey's Nest Log Cabin. The Osprey's Nest is part of a series of patterns designed using our Log Cabin blocks.  The blocks are 12″ x 12″ log cabin blocks that utilize template layout sheets for fast, efficient and accurate cutting.  A cutout template is used to cut away a part of the log cabin block and insert the Circling Geese unit.  The blocks were offset and half blocks have been added on alternating ends to achieve the offset look of the quilt.
The quilt was quilted By Vicki Ibison and a downloadable quilting design will be available at some point in the future.  Watch the Related Products listing below for the quilting design when it becomes available.
Finally, it should be noted that a companion pattern to this quilt is available that utilizes the cut away blocks from the Osprey's Nest, called the Log Cabin Cutouts.  Additional yardage to that described on the Log Cabin Cutouts instructions will be required and an Osprey's Nest Alternative Yardage handout is available for a free download online.  If you are interested in making the companion quilt, please download the alternative yardage information to assure you buy enough yardage of the desired fabric, to complete the companion quilt.
We would like to extend a special thanks to Hoffman Fabrics of California for designing and providing the fabrics for our quilt.
Click below for a downloadable .PDF of various kitting handouts!
Pattern Size: 72″ x 80″
Price: $62.50
Pattern Includes: Instructions, Cover Sheet, Yardage Information, Foundation Papers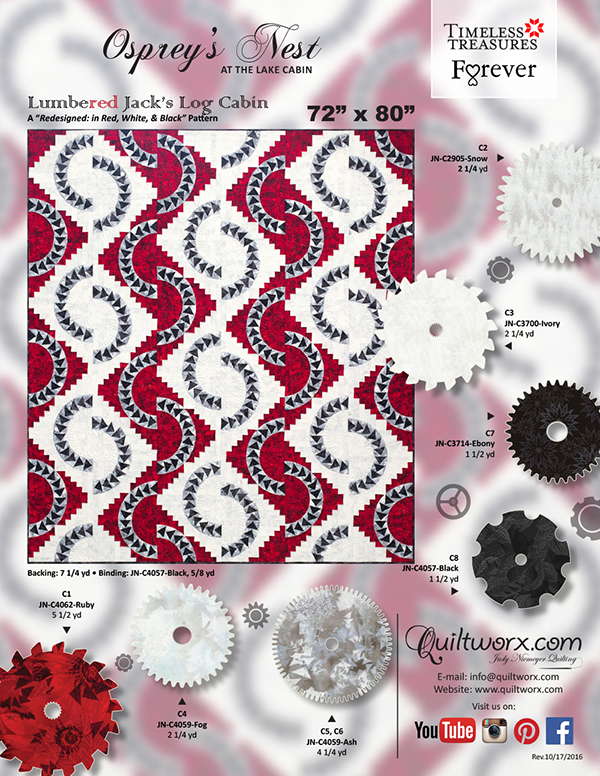 Related Products
Gallery
Quiltworx.com
Osprey's Nest Log Cabin, Quiltworx.com, Made by Jan Bechler, Taught by CI's Shirley Scott and Jan Bressler
Denise Lamb-Perrons
I would love to have a go at this one . Beautiful pattern, love the design and by the way that is gorgeous. Xx
Elisa Campbell
I'm not a quilter and am not acquainted with this pattern - I love it! I've long loved regular log cabin patterns; now I can add this to the list.
Elaine Walker
This is the version I made
Terry Pellam
Love this were can I get the pattern
Juanell Stiles
That is stunning!!! But look at all those ittybitty flying geese!!!!
Brenda Rodgers Butters
Gorgeous but looks super difficult.
Carol Dietz
Now that a beautiful pattern love the colors
Marianne Evert Stamm
I love the colors you used. I need to get my pattern out. I haven't made it yet.
Cheryl Foote Michels
This is beautiful but way to advanced for me.
Kathy Kelly
Nancy z-we need this pattern!!
Kathy Kelly
This is wAy too spectacular!
Cheryl Kearbey West Matthews
Beautiful in the emerald greens and white/cream
Lola Grenfell
I think I will try this one.
Sharon Fields
This is beautiful, would love the pattern.
Christi Scheffel
Beautiful. I could see a great Red and White.
Gloria J Wilson Margolis
I have the pattern and was going to do red and green. Love this version!
Susan Yingst
WOW, bet that took a few days!
Cathleen Umland Gautherin JP
Amazing movement! Where can I get the pattern?
Wanda Mitchell
Wow, that pattern would make me crazy! Great job!
Debra Lawson Esper
Cathy Arnold Parsons I'm thinking I'd like to do this one!
Cindy Becker Rutherford
Stunning &:so intricate!
Loren-Glenyce Lusignan
OOOO Love it! You making me one Cyndi?? HAA1
Alice Smith
Love this! Great movement!
Larry Beitlich
Awesome looking quilt!
Sorry, there are no classes scheduled for Osprey's Nest Log Cabin at this time.