Judy and Bradley Niemeyer, with Quiltworx.com, designed the foundation blocks used to make the Osprey's Nest Log Cabin. The Osprey's Nest is part of a series of patterns designed using our Log Cabin blocks.  The blocks are 12″ x 12″ log cabin blocks that utilize template layout sheets for fast, efficient and accurate cutting.  A cutout template is used to cut away a part of the log cabin block and insert the Circling Geese unit.  The blocks were offset and half blocks have been added on alternating ends to achieve the offset look of the quilt.
The quilt was quilted By Vicki Ibison and a downloadable quilting design will be available at some point in the future.  Watch the Related Products listing below for the quilting design when it becomes available.
Finally, it should be noted that a companion pattern to this quilt is available that utilizes the cut away blocks from the Osprey's Nest, called the Log Cabin Cutouts.  Additional yardage to that described on the Log Cabin Cutouts instructions will be required and an Osprey's Nest Alternative Yardage handout is available for a free download online.  If you are interested in making the companion quilt, please download the alternative yardage information to assure you buy enough yardage of the desired fabric, to complete the companion quilt.
We would like to extend a special thanks to Hoffman Fabrics of California for designing and providing the fabrics for our quilt.
Click below for a downloadable .PDF of various kitting handouts!
Pattern Size: 72″ x 80″
Price: $74.50
Pattern Includes: Instructions, Cover Sheet, Yardage Information, Foundation Papers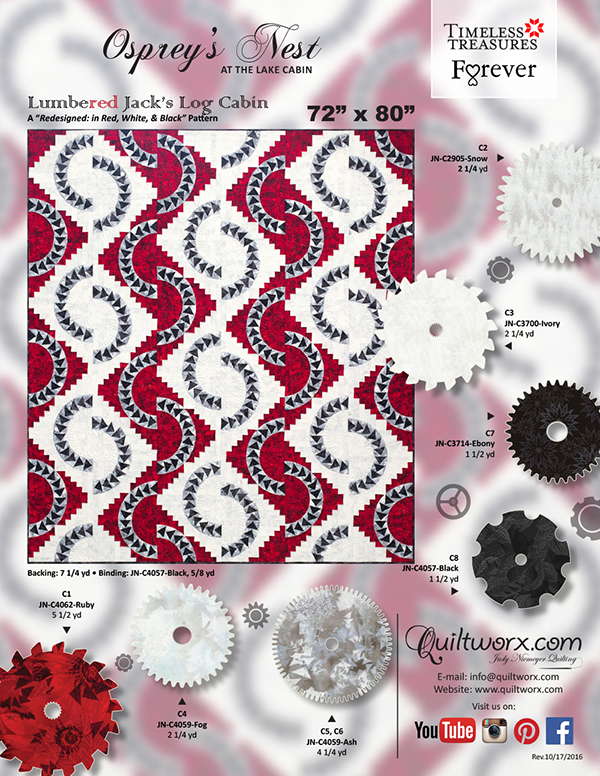 Related Products
Gallery
[fts_facebook id=10151868693302160 album_id=10151868693302160 posts=12 title=no description=no words=0 type=album_photos image_width=150px image_height=150px space_between_photos=1px hide_date_likes_comments=no image_position_lr=-0% image_position_top=-0% loadmore=button popup=yes hide_like_option=no ]
Sorry, there are no classes scheduled for Osprey's Nest Log Cabin at this time.