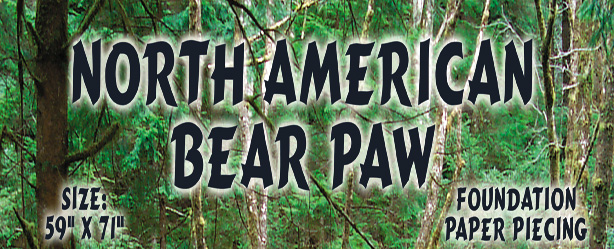 The North American Bear Paw is a creation born out of my many years of quilt making. The basic idea for it began many years ago with the block used in my Shattered Glass pattern. That block can also be found in my Briar Patch pattern, twisted around over and over to give a spiraling effect, and in my Mariner's Star pattern, where it is placed in a circle design surrounded by stars. When I created the North American Bear Paw I took the very same block, designed a new layout, and accented something new: the Bear Paw. The North American Bear Paw pattern was designed using a combination of the foundation paper units from three of my other patterns:
Instructions and yardage requirements are included for the quilt shown on the cover sheet plus the three additional sizes listed in the yardage chart on the back page. If you choose to make a larger quilt you will need to purchase extra foundation papers. The extra foundation papers are sold in separate packages. These packages include the extra foundation papers needed to enlarge this pattern to the size listed on each package.
Gallery
[fts_facebook id=10151381675177160 album_id=10151381675177160 posts=12 title=no description=no words=0 type=album_photos image_width=150px image_height=150px space_between_photos=1px hide_date_likes_comments=no image_position_lr=-0% image_position_top=-0% loadmore=button popup=yes hide_like_option=no ]
Sorry, there are no classes scheduled for North American Bear Paw - DISCONTINUED at this time.