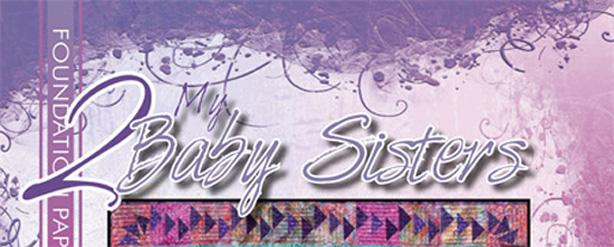 My Two Baby Sisters pattern is 60″ x 66″ made out of Hoffman Fabrics.
This quilt was designed by Judy & Bradley Niemeyer, published March 2013.
My Two Baby Sisters is a redesign of the Meandering Stars pattern and has been updated to include the latest techniques and design approaches by Quiltworx.com, including floating points and template layout sheets!  The pattern comes with all of the papers necessary to complete the quilt on the cover. The quilt sample was completed in 2012 by Quiltworx.com staff.
The quilt was quilted by Quiltworx.com Staff using designs that can be found in the related products or on our digitized design page.
Pattern Size: 60″ x 66″
Price: $38.50
Pattern Includes: Instructions, Cover Sheet, Yardage Information, Foundation Papers
Related Products
Gallery
Quiltworx.com
2 years ago
Sandra York
Love, love, love these colors. Beautiful quilt. Cute dog too.
Mary L. Sellers Collins
Been working on mine the last couple of days.
Camilla Huston Noyes
Has anyone who has made this quilt had a problem with the small blocks when sewn together not matching the larger blocks?
Eileen Wright
I too just love those colours! And the quilt!
Marie Bowden
Love the colour combo. Love the star pattern, might have to try this one. Congrats on a lovely quilt.
Amy Eubank
Love the colors! The dog is lucky to have that quilt!😀
Julie Olson McAuliffe
Awesome!
Paula Reeves
Love these colors!
Marylou Helt Hill
What a great resting pad for this darling Cavalier!
Theresa Talbot
Awesome beautiful colors
Pat Mourek
Love the colors. Gorgeous quilt.
Mollie Charles Pawlik
Awesome
Paully Bee
Beautiful puppy. Oh yes the quilt is also beautiful
Frances Elsheimer
Beautiful.
Elattra M Hardin
LOVE THE COLORS & STARS.
Maureen Frocklage-Paron
Wow, just beautiful!!
Lorraine Fedchuk
I love this one!!
Wiwik Winarni
Wow...love the colors..!
Elaine Golinski
Beautiful Colours In This Quilt.... Awesome ...!!!
Linda Schmidt
Gorgeous! Love the colors!😃
Diane Rochette
Beautiful quilt an colors