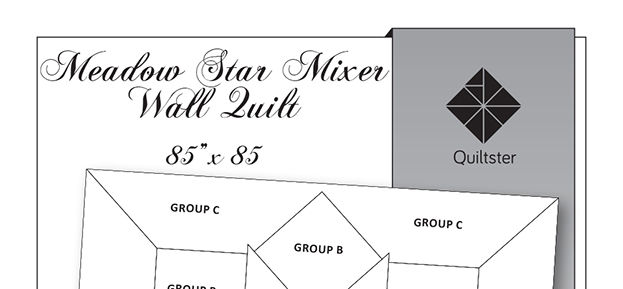 The Meadow Star Wall Quilt Mixer is constructed using 3 distinct groups, comprised of (8) Center Diamonds in a Group A, (8) 16" Squares in a Group B, and border blocks that result in an 85" Square quilt as Group C. The blocks are packaged in each Mixer booklet in Groups of (8) for the Center diamonds and groups of (4) for the 16" squares. Therefore, if you use Quiltster to create a custom layout that uses more than (1) type of diamond or square, you may have some left over units in each package that could be used for another project if desired.
The blocks can be mixed and matched using a cloud-based program called Quiltster. Visit Quiltster.com, subscribe, and locate the Meadow Wall Quilt Mixer Pattern in the projects portion of the platform. Once you have selected your blocks, you can also audition fabrics from current fabric collections across the Quilting Industry to create a project that is unique to you!
If you choose to use Quiltster again to create a second project using this same layout (even if you choose a different combination of blocks) this introduction booklet does not need to be purchased again. The information included herein is the same regardless of which combination of blocks you may want to make for your first or fifth quilt!
Note: You will need to order (2) of the 16″ square booklets and can mix and match if you want.  You will also need to order (3) of the Diamond Booklets for the king Size Layout, those can also be mixed and matched.
Sorry, there are no classes scheduled for Meadow Star Wall Quilt at this time.