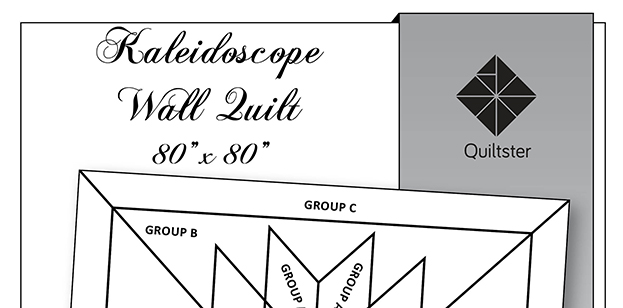 The Kaleidoscope Mixer was designed as a beginner pattern to introduce quilters to paper piecing and constructing an exploded star quilt layout. The project can be made as easy or as challenging as you like through the use of Quiltster. It requires (24) diamond blocks. Quiltworx has over 15 Diamond Blocks compatible with this layout available that can be mixed and matched with others to create a quilt that is unique to you. Keep in mind, that with (24) diamonds required, only (3) packages of (8) diamonds are needed for this quilt. If you use Quiltster to create a custom layout that uses more than (3) types of diamonds, you will have some left over.
In addition to a variety of diamond options, this mixer offers different backgrounds as well. You can choose to simply float your star in a background with lots of space for beautiful quilting or choose options where portions of the background are pieced. Finally, you have an option to add borders, increasing the size of the quilt to 80" x 80".
The blocks can be mixed and matched using a cloud-based program called Quiltster. Visit Quiltster.com, subscribe, and locate the Kaleidoscope Wall Mixer Pattern in the projects portion of the platform. Once you have selected your blocks, you can also audition fabrics from current fabric collections across the Quilting Industry to create a project that is unique to you!
The foundation papers for each of the options avaiable for this layout were designed by Bradley and Judy Niemeyer. The instructions included herein describe the process of making one 80" x 80" quilt with Group A (Diamonds), Group B (Background, and Group C (Border) booklets purchased separately. This introduction booklet does not need to be purchased again if you choose to make another Kaleidoscope mixer. The information included herein is the same regardless of which combination of blocks you may want to make for your first or fifth quilt!
Gallery
[fts_facebook id=10157449403477160 album_id=10157449403477160 posts=12 title=no description=no words=0 type=album_photos image_width=150px image_height=150px space_between_photos=1px hide_date_likes_comments=no image_position_lr=-0% image_position_top=-0% loadmore=button popup=yes hide_like_option=no ]
Sorry, there are no classes scheduled for Kaleidoscope Wall Quilt at this time.