Judy and Brad Niemeyer designed the Dining with the Stars for foundation paper piecing. A collection of fabrics designed by Hoffman Fabrics were used to make the samples shown on the cover.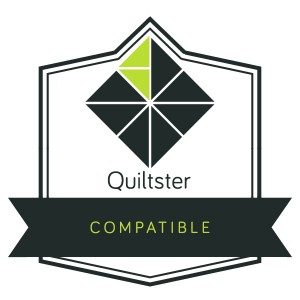 This pattern is Quiltster Compatible!  This means you can color the quilt with your favorite Fabric Collection in Quiltster before you make it and obtain yardage!  Click on the logo to the left to be taken directly to the Template page for this design in Quiltster.  You may need to log into your account for the link to work.  If you do not have a Quiltster account already, you will need to subscribe and log in before this link will work.  Subscriptions can be obtained by going to http://www.quiltster.com, click on Subscribe!
Pattern Size: 17″ x 51″
Price: $21.50
Pattern Includes: Instructions, Cover Sheet, Yardage Information, Foundation Papers
Related Products
Gallery
Quiltworx.com
4 years ago
Darlene Sweetwood
I love this! Pattern?
Brian Jan Turner
Can you post the pattern? I would love to make this table runner. That is my favorite star.
Laurien Davis
Beautiful!!
Frances Elsheimer
Love it.
Karen Hoss
Thanks, Judel 😊
Danna Zeringue Breaux
Wow