The Diamond Wedding Ring 2015 is an update of the original DiamondWedding Ring published in 2001.  The pattern incorporates many of Judy's updated techniques including strip piecing, floating points, Smart Corners, and a revised assembly process that avoids Y-seams!  A border has been added that modifies the size as well.  The pattern is compatible with Quiltworx Bali Pops, a product from Hoffman Fabrics that includes 48 2-1/2" strips that Judy has personally selected and pre-sorted for this pattern.  The cover quilt uses the 2nd Generation Quiltworx Bali Pops, Group 1, but any collection of Bali Pops works beautifully in this design!
Additionally, Judy has worked with Creative Grids to develop and Diamond Wedding Ring Creative Grids Template set, which will help you with trimming this design as accurately as possible!  She has also utilized her Quiltworx Impressions, with a limited number of pre-packaged sets available (approximately 100).  The instructions include information on incorporating Turn Under Applique using Stitch-N-Peel and early this summer, shapes will be laser cut using Stitch-N-Peel for these classic applique flowers used in this design.
Digitized quilting designs are also available to quilt this top and a variety of companion products, including table toppers and Cut Loose Press patterns, along with other Quiltworx patterns are coming soon that use the rulers, strips, and papers you will find in this pattern!  Watch for these new designs!
Click below for a downloadable .PDF of various kitting handouts!
Size: 72″ x 72″
Price:  $32.50
Pattern Includes: Instructions, Cover Sheet, Yardage Information, Foundation Papers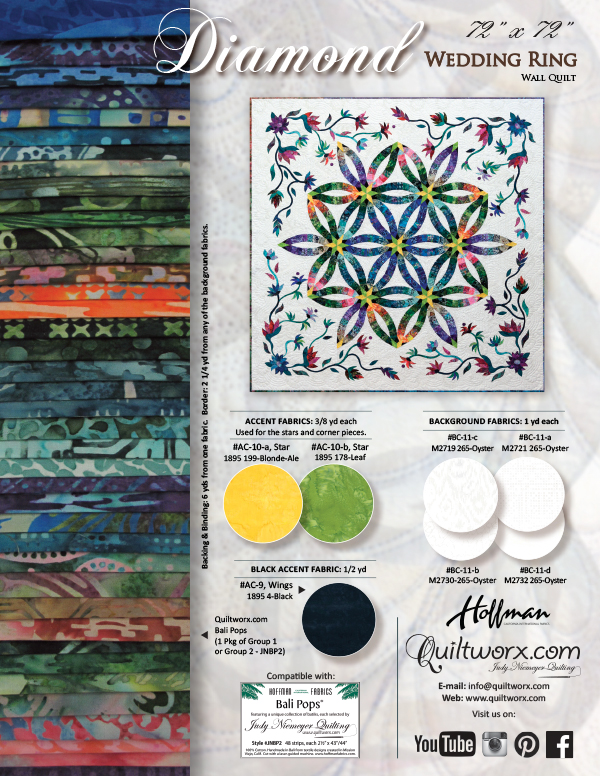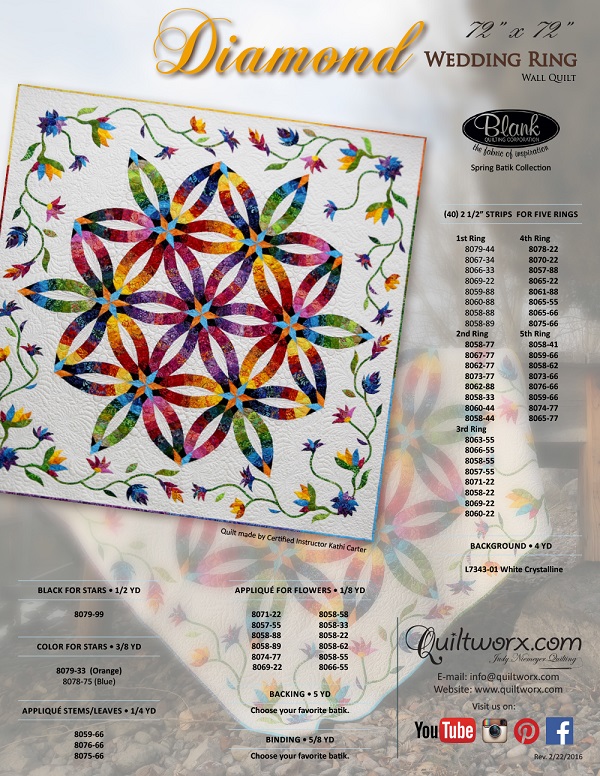 Related Products
Gallery
[fts_facebook id=10151318876727160 album_id=10151318876727160 posts=12 title=no description=no words=0 type=album_photos image_width=150px image_height=150px space_between_photos=1px hide_date_likes_comments=no image_position_lr=-0% image_position_top=-0% loadmore=button popup=yes hide_like_option=no ]
Sorry, there are no classes scheduled for Diamond Wedding Ring 2015 at this time.