Judy and Bradley Niemeyer designed the foundation blocks used in the Cactus Flowers after a traditional block known as the Crown of Thorns. Hoffman Fabrics of California designed and furnished the fabrics for the table runners shown on the cover page. This pattern includes the following pages of foundation paper, which is enough paper to complete (3) 17" by 51" table runners.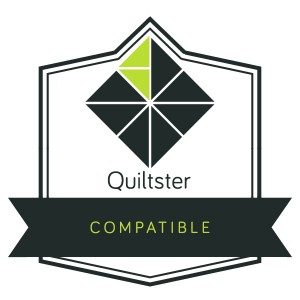 This pattern is Quiltster Compatible! This means you can color the quilt with your favorite Fabric Collection in Quiltster before you make it and obtain yardage! Click on the logo to the left to be taken directly to the Template page for this design in Quiltster. You may need to log into your account for the link to work. If you do not have a Quiltster account already, you will need to subscribe and log in before this link will work. Subscriptions can be obtained by going to http://www.quiltster.com, click on Subscribe!
Click below for a downloadable .PDF of various kitting handouts!
Price: $28.50
Size: 17″ x 51″
Related Products
Gallery
Quiltworx.com
1 year ago
Absolutely gorgeous I just love your colors your pattern oh my God is so beautiful God bless you and thank you for sharing
Julie Colloca Burger do you have this pattern. Would like this as a class
Gorgeous
Yes I do!
❤️the colors and the Pattern
Very Colorful. Totally like this!
Hermoso
Purdy !!
Bbeeeeuuuuttiiiful
I agree with the girls beautiful.
That is beautiful
Nice fabric combo
Jo Kruger
Libby Smith