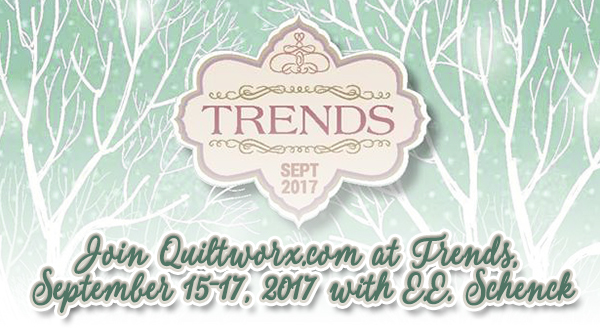 Calling all Quilt Shop Owners!


(Not a quilt shop owner?

Click here

.)
If you're a quilt shop owner curious about how to get started with Quiltworx paper piecing patterns, or a shop owner who already has an active following of Quiltworx enthusiasts, we hope you'll join us at the upcoming Trends show in Portland, Oregon!
We'll be unveiling a new exclusive design, participating in a Take and Teach, and offering a great deal on a Shop Owner's Starter Package. Not to mention, Judel Niemeyer will be presenting a new quilting app called Quiltster, a fabric auditioning tool that makes it easier than ever to quickly show customers how their quilts will look in their favorite fabrics, then kit their final project based on Quiltster's convenient yardage information.
Quiltworx is also sponsoring some great door prizes!
One lucky attendee will go home with a Shop Owner Starter Package for FREE ~ $165 Value

One lucky attendee will receive a FREE 1-day workshop from a regionally local Certified Instructor! We will match your shop with the closest, and most appropriate CI for the class and the teaching is ON US! ~ $350 Value, plus travel.

Two lucky attendees will receive one year subscriptions to Quiltster! ~ $99.00 Value, each subscription.
Join us for the fun, the experience, and to learn more about our company and how we can work with you!
---
Click here for details and sign up to attend!
Please note: Pre-registration ends Aug 25 and online registration closes Sept 4, 2017
Want to follow Quiltworx.com news for this event, check out the Quiltworx Event post.
---
Introducing Wine Country Mixer, an EE Schenck Exclusive!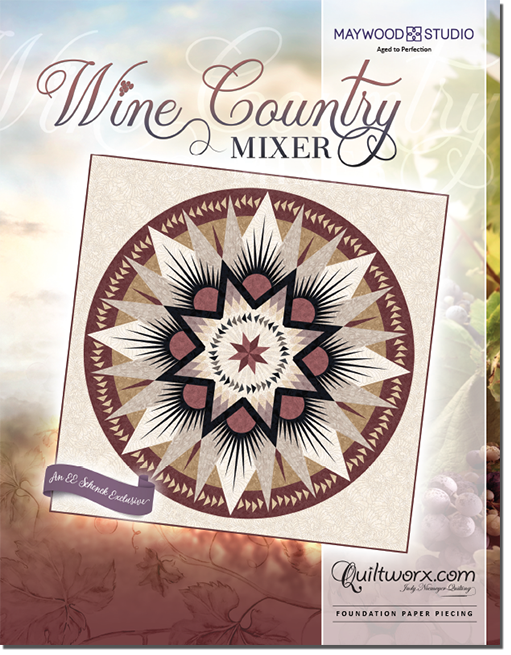 NOTE: This project can be ordered at the Trends show and afterwards through EE Schenck.
Check out our exclusive new design for EE Schenck out of the Maywood Studio collection, Aged to Perfection. The quilt is aptly named, Wine Country and is 96″ x 96″. It uses a new combination of blocks from our Congo Mixer Collection, and we think it is just a show stopper.
The quilt is currently being made by one of our Certified Instructors, Jodie Madison. We're looking forward to getting it back! We designed it in Quiltster and the image above is the Quiltster image of the design!
---
Dahlia Placemats – Our Take and Teach Project
Presented by (soon to be) Quiltworx.com Certified Instructors: Brenda Anderson & Carol Hattan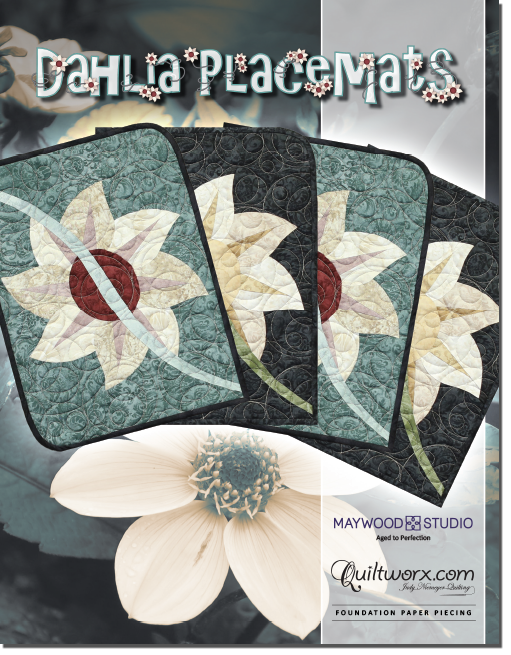 NOTE: This project can be ordered at the Trends show and afterwards through EE Schenck.

Making it's debut here at Trends 2017,
Dahlia Placemats
is an exciting project you can take back to your shop and begin teaching today. A popular workshop that can be taught in one or two days, it combines paper piecing with curved piecing to create fun table decor for any occasion! The cover sheet is graced with two versions of the pattern in
Aged to Perfection
fabrics and is available now for your store!
Brenda and Carol will be providing demos and kits to make ONE placemat, which you can take home and test before offering workshops to your customers.
---
Shop Owner's Starter Package
Are you new to Quiltworx.com patterns and don't know where to start? Start here!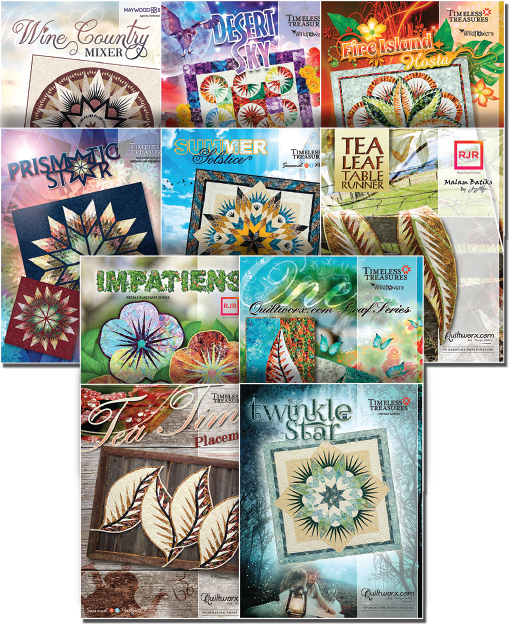 We're launching a special product at Trends this year, only available through EE Schenck! It's called the Shop Owner's Starter Pack. Get an excellent starter package at a great deal, with nine of our best selling patterns and one exclusive Wine Country pattern!
Put the the most popular patterns in your store, AND, get kitting information for over 30 projects in three colorways from Maywood Fabric Collections: Aged to Perfection, Kimberbell Basics, and Java Batik Brights!
---
Quiltster: How it Works for You
Presented by Judel Niemeyer
Discover the possibilities with Judel as she demonstrates Quiltster, a new fabric auditioning tool, and how it can help you and your customers make their quilt inspirations come true quickly and cost effectively!!!

Not only will she show how to use

Quiltster

to increase kit sales in your shop, she'll provide a trunk show of quilts designed using

Quiltster

. You'll marvel at how closely the

Quiltster

mock-ups

represent the finished product allowing customers to purchase their kits with confidence and ease! You won't want to miss out on this exciting demonstration, and the opportunity to ask questions about how

Quiltster

can best work for you.
Quiltster Mock-up vs. Finished Quilt
Glacier Star planned and made by Brenda Anderson
(CLICK IMAGES TO ENLARGE)

Quiltster Mock-up

Finished Quilt
---
Trends is going to be so much fun…
We hope to see you there!
---
If you're seeing this email as a retail customer, Dahlia Placemats will be available to consumers later this month, and if you'd like the Wine Country Mixer, be sure to let your favorite quilt shop know so they can order it in from EE Schenck!