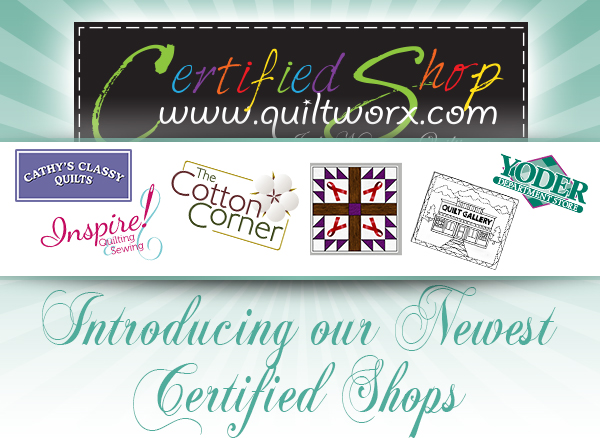 Our Certified Shops are our lifeline to consumers. At first glance, our quilts often seem too hard and even intimidating, but given the right instruction and support, even first-time quilters have completed our beautiful quilt tops quickly. And that's where our Certified Shops come in…
Since 2010, Quiltworx.com has been committed to building relationships with quilt shops who are dedicated to teaching, selling, and kitting our products. Since then, we've certified over 92 shops across the US, Canada, Australia, and Europe! We are thrilled and humbled by the interest in bringing our products to cities all over the world, and are committed to supporting shops and quilters who've become addicted to paper-piecing the Quiltworx way.
Please join us in welcoming our newly certified quilt shops that completed training in April. Click on the links below to view more information about each shop.
CLICK FOR LARGER IMAGE

Cathy's Classy Quilts • Rochester, WA • 360-339-2120

Cathy's Classy Quilts is a small shop owned and operated by Cathy Moore, located in Rochester, WA, half way between Portland, OR, and Seattle, WA, established in August 2011. The shop started out as a quilting service and HandiQuilter Rep. The shop added Judy Niemeyer paper piecing and fabrics in the Spring of 2016.

The shop has been collecting Judy and Judel's collections of fabrics, Hoffman 1895 fabrics, as well as other Batiks since 2016. The shop has an inventory of Judy and Judel's Strip Sets to go with many of the patterns. The shop also has an inventory of many of the Quiltworx patterns to pair up with the fabric collections. I use Quiltster to help my customers choose their fabrics whenever possible. I also carry all notions necessary for the paper piecing process.

My commitment to provide my customers with excellent customer service and education is my first priority. I am excited to be a Judy Niemeyer Certified Shop. Please stop by and check out the shop if you are in the area.
Inspire! Quilting & Sewing • Plant City, FL • 813-704-4867

Housed in the 100-year-old Strickland Building, which is on the Hillsborough County historic building registry. Inspire! has over 4,000 square feet of well-lit shop space with soaring ceilings and lots of samples to inspire you. Our 4500+ bolts of fabric include some of the most current collections from popular quilting fabric manufacturers including Moda, Northcott, Hoffman, Kaufman, Riley Blake, Dear Stella and Timeless Treasures; and hundreds of bolts of beautiful batiks from Anthology, Hoffman, Island Batiks and Timeless Treasures, just to name a few. We are also a full service embroidery supply store featuring Anita Goodesigns, and Exquisite thread and stabilizers.

We are a certified Quiltworx shop and carry a wide range of patterns and classes for Judy Niemeyer fans. As a certified Brother™ sewing machine dealer, we sell and repair all models of Brother™ sewing and embroidery machines.

Inspire! offers classes in sewing, quilting and embroidery for every skill level.

CLICK FOR LARGER IMAGE
CLICK FOR LARGER IMAGE

Mended Hearts Quilting & Boutique
Ellsworth, IA • 515-836-4280
First Certified Shop in Iowa!

I am often asked about my shop's name. Mended Hearts came about because my daughter had a congenital heart defect. She had open heart surgery when she was 6 days old. When she was home and doing exceptional at 6 months, my then 2 year old son was also diagnosed with a heart defect. My children continue to grow and thrive. We take each day as they come knowing, good or bad, life can change in a split second.

Quilting is my way of mending my heart and giving back. I took my first quilt class in 2000 and started my long arm quilting business in 2011. When the opportunity arose to open my own quilt shop in 2014, I took a leap of faith. My goal is to provide you with quality materials and classes so you can create beautiful works of art for your home, family, friends and charities that are close to your heart.
The Cotton Corner • Shipshewana, IN • 260.768.7393
First Certified Shop in Indiana!

The Cotton Corner has been a full service, authorized BERNINA sewing machine dealer for over 30 years. We are also an Official APQS Showroom! We specialize in BERNINA sewing machines, batik fabrics, long-arm sewing machines and custom quilting. We are proud to offer:

APQS long arm machine sales and certification classes, Long-arm machine quilting services, wide fabric for quilt backings, classes and special events, as well as sewing machine repair for all makes and models. We are also a Quilts of Valor drop site and we offer a large selection of patriotic fabric.

CLICK FOR LARGER IMAGE
CLICK FOR LARGER IMAGE

The Quilt Gallery • Kalispell, MT • 406-257-5799

Established in 1984 in the beautiful Flathead Valley, we have thousands of bolts of fabric, an extensive selection of books and patterns, and the right notions and threads to get the job done.

In early 2017, Joan Hodgeboom passed the reigns to Quilt Gallery's new owner, Marianne Buller. Marianne is thrilled about the overwhelming support she's received and is excited to build on Joan's legacy as well as bring her own styles and ideas to the store. Both Marianne and Joan can often be found causing mischief at Quilt Gallery and invite you to stop in and say "Hi!"

We are proud of our knowledgeable staff who are skilled in diverse specialties. Always inspired by new ideas and innovative quilting techniques, we love sharing our passion with anyone looking to learn. We foster an environment that encourages "The Creative Experience" and offer fun and informative, hands-on classes for all ages. Whether you're a seasoned quilter or just starting out, we'd love for you to stop in so that we can outfit you with the products, inspiration, and camaraderie to make your projects a success!
Yoder Department Store
Shipshewana, IN • 260-768-1945
First Certified Shop in Indiana!

On May 3, 1945 Ora and Grace Yoder made a decision to buy a dry goods store in Topeka Indiana, the heart of Amish country. The original operation included many goods to serve the local farming population. Bib overalls, work shoes, and of course fabric for clothing and quilts were sold.

A number of years later, in 1952, a second location was opened in a nearby town, Shipshewana, Indiana. After operating both locations for decades, a decision was made to sell the Topeka location and to move all operations to the downtown Shipshewana location.

Around the age of 60, Ora decided to move his business "out of town" to new facilities just south of downtown Shipshewana to Yoder Shopping Center, the present-day location. Just like back in 1968 when the business was moved, Yoder Shopping Center is shared with two other businesses, Yoder's Hardware and Fireside Cafe.

Even though Ora passed away in 1992 at the age of 85, the business has remained a family owned and managed business passing onto the 3rd generation during 2006.

Yoder Department Store celebrated its 70th anniversary in 2015.

Even though quality transcends country boundaries, made in the U.S.A., which used to be the norm, has definitely become the exception. Yoder's carries a significant amount of product still made in the U.S.A. and makes every attempt to continue to offer our guests domestically manufactured products whenever possible.

Every year, Yoder's Department Store organizes the Shipshewana Quilt Festival. This event attracts thousands of quilters and offers an outstanding lineup of National Instructors, presentations, and workshops throughout the week. It is truly a bucket list destinations for Quilters everywhere.

The shop boasts an extensive collection of Basics and Solid Fabrics in both Batiks and Cottons with over 600 hues lining a 120-ft wall of the store. The shop is proud of their designation as a Top 10 Quilt Shop in Quilt Sampler in 2016 and, it continues to grow, support, and even surprise the Quilting Industry in the quality and quantity of fabrics and quilting supplies it offers. Excited by his discovery of Quiltster, Andre Yoder began working with Quiltworx and Quiltster this past year to certify both Yoder's Department Store and the Cotton Corner. Both shops are looking forward to using the Quiltster tool to better serve customers near and far with excellent custom kit cutting services and a shop full of knowledgeable staff familiar with Quiltworx Products and paper-piecing techniques.

CLICK FOR LARGER IMAGE
If you're a quilter looking for a quilt shop that supports everything Quiltworx in your area, from patterns to fabrics to notions to classes…click here to find the Certified Shops nearest you! All of our Certified Shops have online stores as well, so even if there isn't a shop in your area, you have convenient resources for anything you need.

Stay tuned as we feature our other
Certified Shops in future newsletters!

If you're a quilt shop and would like to bring the Quiltworx.com addiction to your location by becoming a Certified Shop, please contact Katie Malinak for more information.