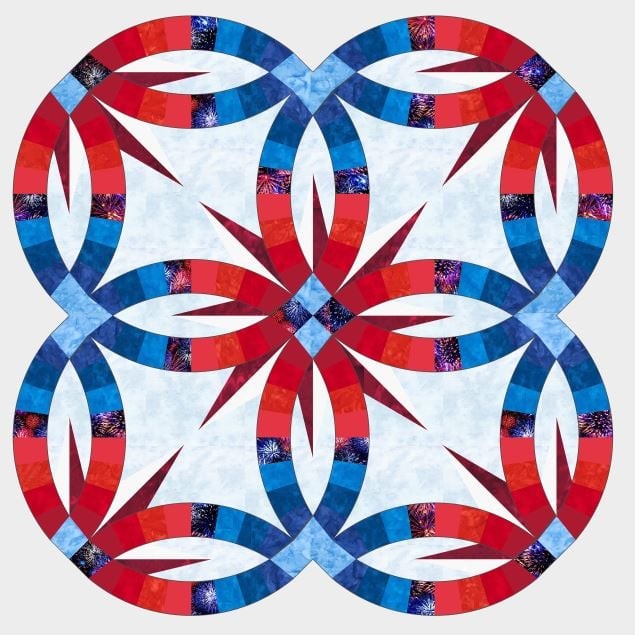 The Double Wedding Ring quilt pattern is on every quilter's bucket list.  Join scores of past students who are now enjoying their beautiful Wedding Star Table Toppers decorating their tables!
While the world is slowly "opening up" from the COVID-19 crisis, it's still nice to sew from the comfort of your own sewing room!  Let's all ZOOM our way to success!  All you will need is a smart phone, tablet or computer to join me in this 5 session class series!  The best part of all – you don't need to pack up your machine and supplies!  You get to work in the comfort of your own sewing room.
Take the plunge and join me and make your own DWR quilt!  We will start with the Quiltworx Wedding Star Table Topper – a pattern that teaches you almost EVERYTHING you need to know should you decide to make a larger wall quilt or even a queen- or king-sized bed quilt!    The table topper is the perfect introductory size – 2 rings by 2 rings – 30" x 30".  This is one that can be easily finished in a very short window of time!  If you are ready to do a larger Wedding Star Quilt — just email me — and we can easily adapt this class for you as well.
This class series will take you from the very beginning until your table topper is complete!  Interactive online classes allow you to observe and see what I do as well as ask questions along the way.  The class sessions will be recorded so you can re-watch later if you wish.  Questions between sessions?  I'm only an email or phone call/video chat away!  My promise to you is that you will have support every step of the way as you finish your quilt top!
A $120 value including 5 sessions, pattern and endless support for $99!
Classes will meet Fridays in March and into April 2021.  All times are CST (Central – same as Chicago or Dallas)
Session #1 – Prep and General Information – Friday, March 5, 2021 – 10:00 AM – 12:30 PM
Session #2 – Sewing the Arcs – Friday, March 12, 2021 – 10:00 AM – 12:30 PM
Session #3 – Sewing the CDS/CMS/Melons – Friday, March 19, 2021 – 10:00 AM – 12:30 PM
Session #4 – Begin Assembly – & square up option – Friday, March 26, 2021 – 10:00 AM – 12:30 PM
Session #5 – Finishing Up (how to bind!)  –Friday, April 2, 2021 – 10:00 AM – 11:00 AM
With your registration you will receive a complete supply list and fabric requirements list.  Shop your stash as this project doesn't require large quantities of any one fabric.  If you need assistance I can help you find a kit!
Class fee is based upon the bundled Wedding Star Table Topper Pattern — if you already own your pattern or prefer to make one of the larger quilts — just email me! 
Online Classes via Zoom
Zoom is a popular tool for conducting meetings and classes online.   If you can stream Netflix you can Zoom! You will need an internet connection, and a computer, or tablet (like an iPad), or a smart phone.   The software is free and easy to use.  If you're nervous about the online class, I 'll even schedule a one-on-one session to help you with the set up and walk you through a Zoom session.
You will be sent a unique weblink before each class and you will follow that link to join the class.  All classes are interactive, you can ask questions and share your work in real-time.  I use multiple cameras so you can see me, my worksurface, my sewing machine needle and my pressing table.   I supplement these views with photos, PowerPoint shows and handouts and custom videos.  I share all materials on a website you can find all of the videos and handouts we use in the class.
There are some real advantages to my Zoom Classes:
The technology won't get in the way. I've now taught more than 200 quilters via Zoom in the last year.  Many were first time "Zoomers" and first time quilters — No one has left my classes because of the online technology.
You can take this class from anywhere in the world!  Take classes at home or while on vacation.
You never have to leave home!  No lugging your sewing machine or bags through the snow to a shop or class room.
Learn in your own sewing room with all of your own tools and notions handy
Everyone has a front row seat – multiple cameras mean everyone can see demonstrated techniques up close.
All classes are recorded and you can re-watch the classes at your leisure
Time shift – If your schedule changes – watch the class on your own schedule.
You'll have access to the class videos for a month or more after the class – you can go back and refresh your memory if you need to revisit and particular technique or process.
The BobKat Quilts Guarantee!
I'm committed to my students' success.  I'm with you until you finish!  If you have a question, I'm easily reachable via phone, email,  or text and I will facetime or video chat with you  one or one to answer questions,  help you fix a mistake, or get you "unstuck"!