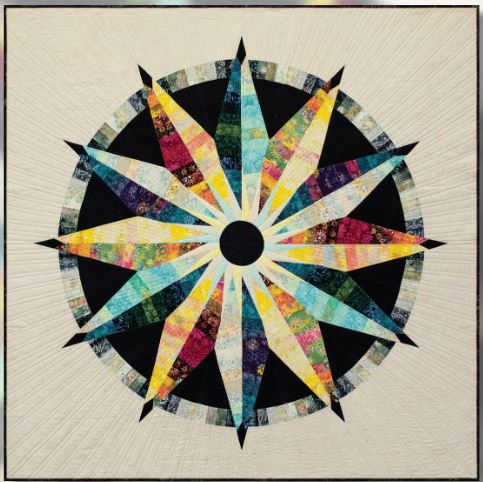 This is one of my favorite Quiltworx projects!  It goes together so quickly you'll be amazed!  Strip pieced using a Quiltworx Strip Set,  or raid your stash for 2 1/2″ strips — you'll love this fun quilt!
Class meets on Sundays from Noon to 2:30 CST — and only 3 sessions to create this 68″ x 68″ wall or lap quilt.  Expansion options are available to make this quilt larger!  Just email me for more information!
Sunday, April 11
Sunday, April 18
Sunday, April 25
 $120 value including 3 sessions, pattern and endless support for $99!
With your registration you will receive a complete supply list and fabric requirements list.  Shop your stash as this project doesn't require large quantities of any one fabric.  If you need assistance I can help you find a kit!
Online Classes via Zoom
Zoom is a popular tool for conducting meetings and classes online.   If you can stream Netflix you can Zoom! You will need an internet connection, and a computer, or tablet (like an iPad), or a smart phone.   The software is free and easy to use.  If you're nervous about the online class, I 'll even schedule a one-on-one session to help you with the set up and walk you through a Zoom session.
You will be sent a unique weblink before each class and you will follow that link to join the class.  All classes are interactive, you can ask questions and share your work in real-time.  I use multiple cameras so you can see me, my worksurface, my sewing machine needle and my pressing table.   I supplement these views with photos, PowerPoint shows and handouts and custom videos.  I share all materials on a website you can find all of the videos and handouts we use in the class.
There are some real advantages to my Zoom Classes:
The technology won't get in the way. I've now taught more than 200 quilters via Zoom in the last year.  Many were first time "Zoomers" and first time quilters — No one has left my classes because of the online technology.
You can take this class from anywhere in the world!  Take classes at home or while on vacation.
You never have to leave home!  No lugging your sewing machine or bags through the snow to a shop or class room.
Learn in your own sewing room with all of your own tools and notions handy
Everyone has a front row seat – multiple cameras mean everyone can see demonstrated techniques up close.
All classes are recorded and you can re-watch the classes at your leisure
Time shift – If your schedule changes – watch the class on your own schedule.
You'll have access to the class videos for a month or more after the class – you can go back and refresh your memory if you need to revisit and particular technique or process.
The BobKat Quilts Guarantee!
I'm committed to my students' success.  I'm with you until you finish!  If you have a question, I'm easily reachable via pSundihone, email,  or text and I will facetime or video chat with you  one or one to answer questions,  help you fix a mistake, or get you "unstuck"!