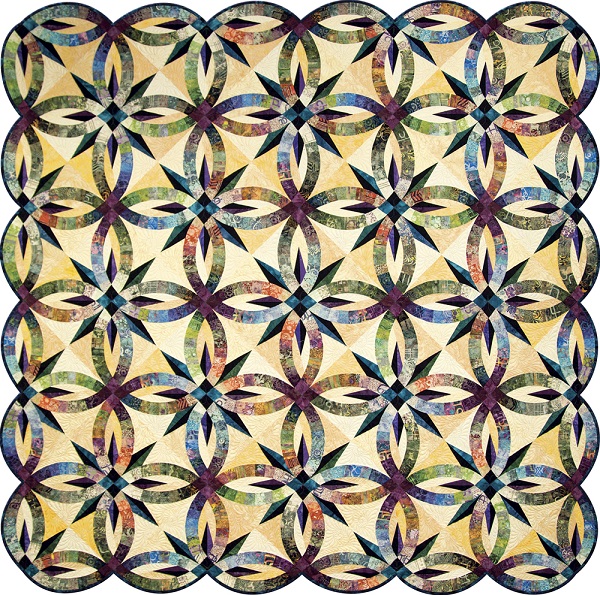 A long favorite — Judy's Wedding Star quilt patterns makes these quilts perfect for ANY quiltmaker!  Choose a small, medium or large project — the techniques are all the same!
Did you know that this was my FIRST "JUDY" QUILT … in 2001!!
Choose your pattern: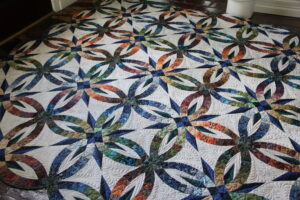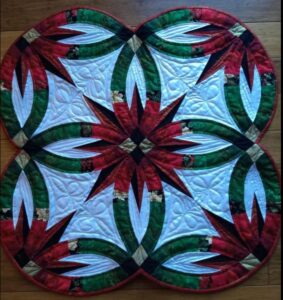 Wedding Star Table Topper (2 rings by 2 rings) – finshes approximately 30″ x 30″
Gemstone (4 rings by 4 rings) – finishes approximately 54″ x 54″
Bali Bedrunner (2 rings by 8 rings) – finishes approximately 30″ x 104″
Bali Wedding Star (6 rings by 6 rings or larger!) – base pattern is 80″ x 80″ (purchase additional papers to make larger)
Intro class will take you through fabric requirements – -how to select and design to help you choose fabrics you'll love — and understand how they all fit together in your quilt.  For many — choosing star point fabrics and cornerstones can be difficult to decide upon — and to organize!   Additional classes will focus on the Arcs, Melons and CDS/CMS units and assembly!  I'll be with you from start to finish!
Finish it with the traditional rounded edges or square it up!  It's all up to you.   Fabric kits are also available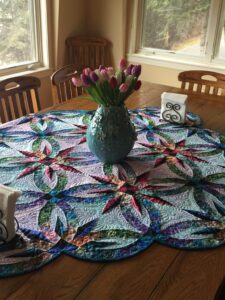 on my  website for the smaller quilts.
Class dates are:
Intro:  Friday, August 11 – 10:00 AM – 12:30 PM
Class #2:  Friday, September 8 – 10:00 AM – 1:00 PM
Class #3:  Friday, September 29 – 10:00 AM – 1:00 PM
Class #4:  Friday, October 20 – 10:00 AM – 1:00 PM
Use Quiltworx Strip Sets or custom color your own.  I can help you out with both options!  It's time you checked a Double Wedding Ring quilt off your Quilter's Bucket List — and this is the perfect way to do that!  These patterns are perfect for quiltmakers of all skill  levels — the hardest part is organizing your colors!  Foundation paper piecing will tame those curves and you'll be amazed at how quickly you master them.  I'll even point you in the right direction  to learn how to add the binding on the scalloped edge!
I hope you'll join me!