We know you are a fan of Quiltworx Foundation Paper Pieced Quilts but have you  explored and/or mastered Quiltster?  If not,  here is the perfect opportunity!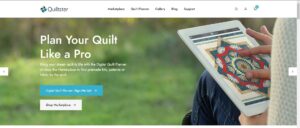 What is Quiltster:  Quiltster is a cloud-based, subscription-based software application a bit like a digital coloring book — but oh, SO MUCH MORE!
From starting with a standard Quiltworx pattern, you can easily point and click your fabrics and your colors to create the quilt of your imagination!  Whether you work the thousands of fabrics in the Fabric Stash — or you upload your own (you'll learn how!) — it's easy to shop your local shop, your favorite online shop or your own stash to create your quilt.  Once you have pointed and clicked your way to "perfection" — you can then print out the necessary information to shop your fabrics (yardage requirements), organize your fabrics (cut and label your strips) and then group them by sewing unit so you can grab those Template Layout Sheets and get going!
Want to step into the wild side?  We will also look at how you can easily create RAINBOW quilts or even use Quiltworx Strip Sets to design  your quilts!
Feeling Super Creative?  Then you will want to learn about the MAGIC OF MIXERS!  Create your own "custom" version of a Quiltworx pattern!  With some of the Mixer Variations — you would need to create HUNDREDS OF QUILT PATTERNS before you replicate a design!   How exciting is that!
So what are you waiting for — sign up for your own Quiltster account, register for my Zoom class — and together we'll learn the Quintessention Joy of Quilt Designing with Quiltworx!!