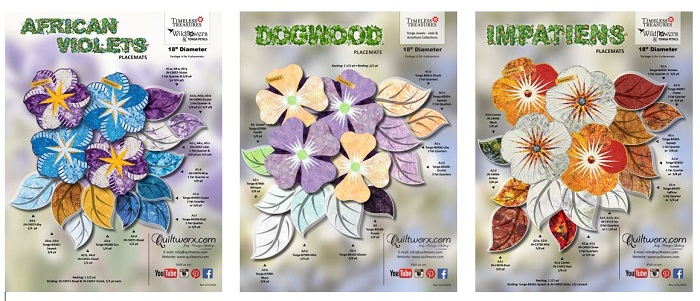 This is a three class series taught online.  You can choose one of these three patterns and the cost of the pattern is included in your registration!
African Violets
Dogwood
Impatiens
These small projects pack a lot of technique learning in them… not to mention they are beautiful!   Use them on your table, hang them on your walls or even applique them to a wide back fabric to create a beautiful applique quilt!  This is a series of three classes, delivered online in your home!
The African Violets pattern provides enough papers to make (4) Six-petal flowers with variegated leaves and a border element to give the illusion of a feathered leaf.  The Dogwood pattern also provides enough papers to make (4) four-petal flowers.  The pattern includes a package of (4) Stitch-N-Peel Flower Centers for a perfectly sized applique center every time! Extra foundations will be available that include enough papers to make (4) additional flowers upon publication.   The Impatiens pattern provides enough papers to make (4) five-petal flowers. Finally, the pattern includes a package of (4) Stitch-N-Peel Flower Centers for a perfectly sized applique center every time!
In class we will even explore and practice Judy's binding technique!
Each of these patterns is both Fat Quarter and yardage friendly, giving you the options to get as colorful as you like with your petals!  Each finishes at 18″ diameter.  These patterns are Quiltster friendly — so you can play with your colors and fabrics before you cut your first fabric!
This is a three class sequence
I give you some time between classes so you can practice what you learn and we can answer questions and solve problems from your sewing experience.   Class dates are:
Tuesday, February 16 from 10:00 AM – 12:30 PM CST
Tuesday, February 23 from 10:00 AM – 12:30 PM CST
Tuesday, March  9  from 10:00 AM – 12:30 PM CST
In the last class we will discuss and I will demo Judy's unique binding technique!!
Online Classes – via Zoom
Zoom is a popular tool for conducting meetings and classes online.   If you can stream Netflix you can Zoom! You will need an internet connection, and a computer, or tablet (like an iPad), or a smart phone.   The software is free and easy to use.  If you're nervous about the online class, I 'll even schedule a one-on-one session to help you with the set up and walk you through a Zoom session.
You will be sent a unique weblink before each class and you will follow that link to join the class.  All classes are interactive, you can ask questions and share your work in real-time.  I use multiple cameras so you can see me, my worksurface, my sewing machine needle and my pressing table.   I supplement these views with photos, PowerPoint shows and handouts and custom videos.  I share all materials on a website you can find all of the videos and handouts we use in the class.
There are some real advantages to my Zoom Classes:
The technology won't get in the way. I've now taught more than 200 quilters via Zoom in the last year.  Many were first time "Zoomers" and first time quilters — No one has left my classes because of the online technology.
You can take this class from anywhere in the world!  Take classes at home or while on vacation.
You never have to leave home!  No lugging your sewing machine or bags through the snow to a shop or class room.
Learn in your own sewing room with all of your own tools and notions handy
Everyone has a front row seat – multiple cameras mean everyone can see demonstrated techniques up close.
All classes are recorded and you can re-watch the classes at your leisure
Time shift – If your schedule changes – watch the class on your own schedule.
You'll have access to the class videos for a month or more after the class – you can go back and refresh your memory if you need to revisit and particular technique or process.
The BobKat Quilts Guarantee!
I'm committed to my students' success.  I'm with you until you finish!  If you have a question, I'm easily reachable via phone, email,  or text and I will facetime or video chat with you  one or one to answer questions,  help you fix a mistake, or get you "unstuck"!