Quiltworx Classes
This event has passed.
Instructor:

Event:

Dinner Plate Dahlia - Plant City, FL

Start:

February 25, 2019

End:

June 17, 2019

Category:

Organizer:

Phone:

813-7044867

Updated:

December 31, 2018
Venue:

Phone:

813-704-4867

Address:
Google Map

101 N Collins Street

,

Plant City, FL

,

33563

,

United States
Dinner Plate Dahlia by Quiltworx/Judy Niemeyer
With Certified Instructors: Flo Bradbury and Ann Troutman
Eight sessions on Mondays in 2019 from 10am-4pm
2/25, 3/18, 4/1, 4/29, 5/20, 6/3, 6/17
Join Ann & Flo on a few Mondays and let them show you how you can make this paper-pieced beauty.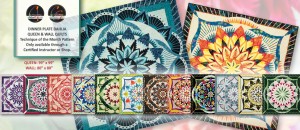 Every other year Quiltworx produces a pattern they call a "Technique of the Month" project. It is designed in sections that start from easy to hardest. These patterns have always been show stoppers and the Dinner Plate Dahlia is no exception. It is awesome and if you can sew a straight line, YOU can do it.·         The Wall version finishes 80" square – pattern is $96 including special ruler·         The Queen version finishes at 90" square – pattern is $119.50 including special ruler

Patterns will be available in January, but we can color yours in Quiltster today. Kits are available at Inspire! Let us customize yours.

CLASS FEE: $320 SKILLS: Confident Beginner

Students always receive 15% off purchases for classes at Inspire!
Supplies:·         Pattern – Dinner Plate Dahlia by Quiltworx (includes paper foundations)·         Fabric as indicated on pattern back – colors are your choice·         Scissors – both paper and fabric·         Rotary cutter and extra blades·         Add-A-Quarter Ruler 12" or 18"·         6" X 18" ruler and medium cutting mat

·         Seam Ripper

·         Scotch Tape

·         Fabric Glue Stick &/or Glue Pen (we like Sewline or Bohin)

·         High quality cotton thread 50 or 60 weight (we like Aurifil) in a neutral color

·         Large uncoated paper clips (lots)

·         Gallon baggies & Sharpie marker

·         Flower Head pins

·         Sewing machine in good working order with ¼" foot, power cord, foot pedal
Prework:·         Cut out all of the paper foundations ¼" outside marked lines.·         Refer to pattern instructions for numbering bags and what goes in which bag.·         Are you prewashing? Wash and press all of it. Never start a project with some pieces washed and some not. Iron with sizing, starch or Best Press will give the best results
Optional but good to have:·         Purple Thang·         Size 70/10 Microtex or Sharp needles·         Ink pen or pencil·         Personal iron and pressing surface
Patterns Taught At This Event
iCal Import
+ Google Calendar