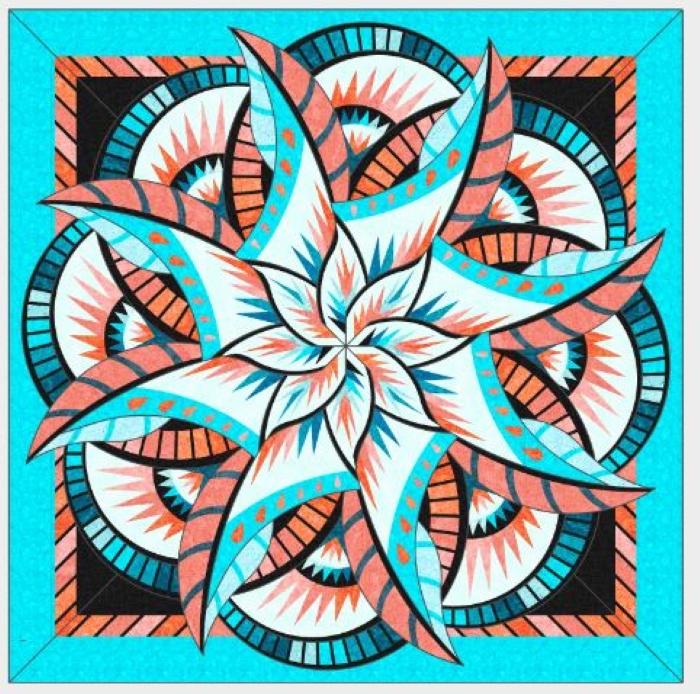 Quiltworx has announced the release of their new Technique of the Month quilt — CORAL REEF — and I know it will become very popular like Dinner Plate Dahlia and other Technique of the Month (TOM) beauties!
Reserve your seat now!
Classes will meet via Zoom starting in early March on Saturday mornings (10:00 AM – 1:00 PM CDT).  There will be 5 sewing sessions plus the information session and a general cutting session. (If we need more time — we can possibly add another sewing session on 5/15 — at no additional cost).  If you are doing a rainbow or ombre quilt — a separate cutting session can be purchased.
Saturday, March 6 – 10:00 AM – 1:00 PM  – intro and information session
Saturday, March 6 – 1:00 PM – 2:30 PM — cutting session (regular quilts – not rainbow or ombre)
Saturday, March 20- 10:00 AM – 1:00 PM
Saturday, March 27 – 10:00 AM – 1:00 PM
Saturday, April 10 – 10:00 AM – 1:00 PM
Saturday, April 24 – 10:00 AM – 1:00 PM
Saturday, May 1 – 10:00 AM – 1:00 PM
Saturday, May 15 – 10:00 AM – 1:00 PM (Tentative – If needed)
Great Value!
Your cost for the pattern and all instruction (includes live classes, access to recorded classes, special technique videos, explanatory handouts, printable label files and more as well as ongoing support as needed including 1-on-1 support) is going to be Wall Size:  $379 and for Queen $399.  This INCLUDES YOUR PATTERN!!!   If you already have your pattern, email me for alternative prices
Online Classes via Zoom
Zoom is a popular tool for conducting meetings and classes online.   If you can stream Netflix you can Zoom! You will need an internet connection, and a computer, or tablet (like an iPad), or a smart phone.   The software is free and easy to use.  If you're nervous about the online class, I 'll even schedule a one-on-one session to help you with the set up and walk you through a Zoom session.
You will be sent a unique weblink before each class and you will follow that link to join the class.  All classes are interactive, you can ask questions and share your work in real-time.  I use multiple cameras so you can see me, my worksurface, my sewing machine needle and my pressing table.   I supplement these views with photos, PowerPoint shows and handouts and custom videos.  I share all materials on a website you can find all of the videos and handouts we use in the class.
There are some real advantages to my Zoom Classes:
The technology won't get in the way. I've now taught more than 200 quilters via Zoom in the last year.  Many were first time "Zoomers" and first time quilters — No one has left my classes because of the online technology.
You can take this class from anywhere in the world!  Take classes at home or while on vacation.
You never have to leave home!  No lugging your sewing machine or bags through the snow to a shop or class room.
Learn in your own sewing room with all of your own tools and notions handy
Everyone has a front row seat – multiple cameras mean everyone can see demonstrated techniques up close.
All classes are recorded and you can re-watch the classes at your leisure
Time shift – If your schedule changes – watch the class on your own schedule.
You'll have access to the class videos for a month or more after the class – you can go back and refresh your memory if you need to revisit and particular technique or process.
The BobKat Quilts Guarantee!
I'm committed to my students' success.  I'm with you until you finish!  If you have a question, I'm easily reachable via phone, email,  or text and I will facetime or video chat with you  one or one to answer questions,  help you fix a mistake, or get you "unstuck"!