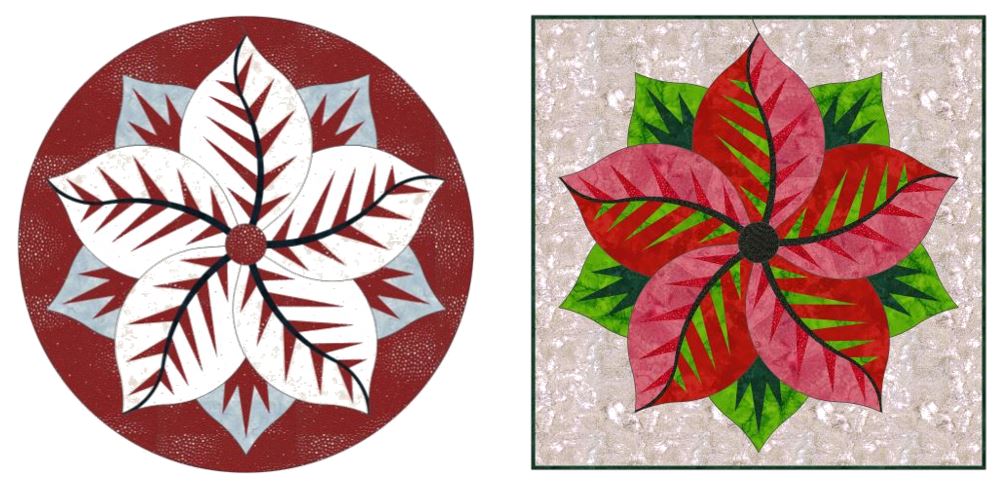 This beautiful small quilt is perfect for your tables, your walls and make extraordinary gifts!  They are quilt patterns that with proper instruction every quilt-maker can make!
In a few short classes you will learn how to navigate Quiltworx quilt patterns, how to choose fabrics for Quiltworx quilts and the fundamentals of paper piecing as well as curved piecing the Quiltworx way! These skills will lay a great foundation for future quilt projects. You'll be amazed at how quickly these beautiful quilts go from start to finish!   A Quiltworx pattern — this foundation paper pieced table topper finishes at 30″ — either round or square!!  It's quick to make, quick to quilt and quick to bind.  That makes it a perfect quilt to gift to family and friends (or keep for yourself!!).  Make them in colors to match your decor — or seasonal — spring, summer, fall, winter or holiday!  They are so pretty you'll want one for every season!
The Best Seat in the Room…
Because classes are on the ZOOM platform – there is no packing up. No lugging your machine in the rain, cold or snow.   No travel – no hotel bills!  You will be in your own bed every night. No worrying about social distancing or health risks.  You will work from your own sewing room and have all your tools set up the way you like available to you.  You can even attend in your jammies!  Unlike typical online classes where you can only watch – with ZOOM you watch, listen, ask questions AND get answers right then and there.  Like the online classes, sessions are recorded so you can revisit them as needed.  Unlike a typical classroom where students huddle around the instructor during demonstrations where you wrangle to get a good view – EVERYONE has the same perfect view.  I utilize multiple camera angles as well as PowerPoint and graphics to make sure you have the perfect look at exactly what you need to see to understand what it is you need to do. From lectures to cutting to pressing to sewing – you'll have the perfect view every time.   And
Kathy is always happy to answer emails, text message or even set up a one-on-one video chat to make sure you will have no reason not to finish your quilt!
Course Schedule
Class will meet on Friday afternoons starting in October –  if you are a Zoom novice – we'll make sure you understand how it all works before the actual quilting class begins.  Then there will be an Introduction to Quiltworx patterns – so if this is your first "Judy quilt"  or even if an experienced paper piecer,  we'll ensure that you will be able to hit the ground running.  You'll know the terminology, you will understand the tools, you will be able to look at the pattern and papers and know how to read them. You will understand exactly what you need to do to be 100% prepared for the first official sewing instruction class.  We will also review the fabrics needed — to make sure you can create the exact quilt you are seeing in your mind.
Then we will have three sewing sessions where I will introduce and demonstrate the techniques you will need to keep sewing once class is concluded.  You will have time in class to get started to make sure you understand what you need to do – but homework between Zoom sessions will allow you to make great progress through the class and by the second class session you will be assembling your  Poinsettia quilt – and could possibly have the top complete!!
Want to participate but you work during the day?  Classes are recorded so you can watch them at your convenience – day or night.  And I'm always available to answer questions outside of the actual class.  An email, text or a quick video chat will get your questions answered!
Class Dates are as follows
Class will include the following sessions: (All times are CST – Chicago/Dallas)
Friday, October 8 – 1:30 – 3:30 PM CST – Session #1 – Piecing the flowers and Leaves
Friday, October 15 – 1:30 – 3:30 PM CST  – Session #2 – Add the Veins
Friday,  October 22  29 –  1:30 – 3:30 PM CST  – Session #3 – Joining your parts together to finish your quilt! (round or square!) (Date change due to a conflict — pushed back 1 week.  Sorry for any inconvenience.)
It really is a great project and perfect for quiltmakers of all skill levels!!  I have a variety of fabric kits available for this pattern.  Be sure to check them out!
Great Value!
Your course fee includes:
The full Quiltworx  Poinsettia quilt pattern
Support for Zoom and online classes
Hours of instruction and demonstrations – live and then recorded so available to you after the live class ends
Ongoing support from a Quiltworx Certified Instructor until your project is completed
Course fee: $89  
Class sizes are limited so don't wait!  Reserve your spot today!   I look forward to Zooming with you soon!
I hope you'll plan to join me!  When you discover how easy this beautiful quiltis to make – and how quickly it goes together… you'll want to make several for gifts!  (Replacement papers and fabric kits are available in my webstore.)  And they are easy to quilt on your domestic machine – a simple stitch in the ditch to something more ornate – so you'll be able to finish them without needing the services of a long arm quilter!  They can decorate your table this Holiday Season!