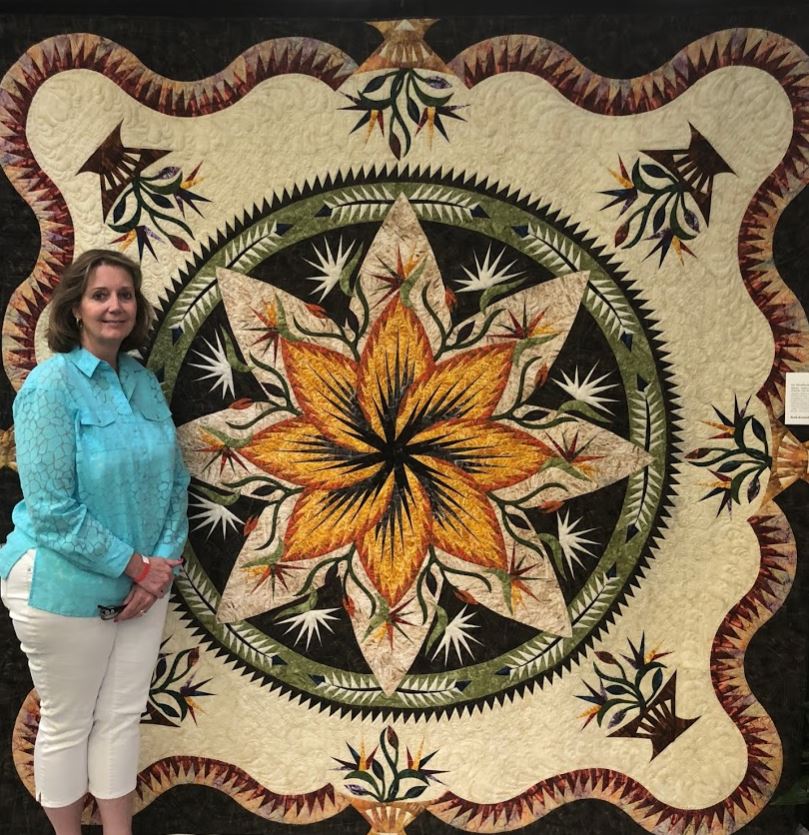 Introduced in 2015 – PARADISE IN BLOOMS – is a favorite of many Quiltworx quilt makers!  This gorgeous quilt can be finished in two sizes:  Wall (76" x 76") or Queen (97" x 97").    With a touch of appliqué, this Technique of the Month quilt will allow you to learn many of those techniques that make Quiltworx patterns special.  And because of those techniques — like all Quiltworx quilts — anyone with the confidence to start — I'll make sure you can finish!
This pattern (at this time) is NOT Quiltster compatible. ☹  But I can work with you to identify the units and fabric ID's so if you can visualize your quilt – you'll know exactly what you need in the way of fabrics to make it. And I can help with the FABRIC ID's so you can integrate it with your pattern.   You would want to purchase a "PIB Color Consultation" – but understand that we will NOT be working within the Quiltster software – but within the outlines and tables that I will have drawn up.  I will also provide a "coloring page" that you can print out, grab your colored pencils, and design away.
DO NOT LET THE APPLIQUÉ  make you steer clear of this pattern.  Judy's appliqué  technique is very beginner friendly.  I will help you master the art of appliqué  on your domestic machine OR you can use your embroidery machine with the digitized designs that are sold separately.
The plan will be to introduce the quilt in November, meet once in December to address fabrics, cutting, bagging…  — all the things you need to know to get ready.  We'll address the one major section the QUEEN quilt makers might want to get a head start on.   Then we will all enjoy the holidays.  Come January, we will start meeting regularly over the next 3 months.  As always, classes will be recorded and made available for many months after the class concludes.  So you can't miss a thing!
And don't forget the BobKat Guarantee – "I'm here for you until your quilt top is complete!"  Period!   email, text, phone or even a 1-on-1 zoom.  I will help get you to the finish line!
Questions?  Just email me at kathy@bobkatquilts.com!
All Classes are CENTRAL TIME:  (I sometimes run long — but we'll do what it takes to make sure everything you need to know to continue is covered!)
Saturday, November 6 — 10:00 – Noon  (general pattern intro / info)
Saturday, December 18 — 10:00 AM – 12:30 PM (fabrics/cutting/bagging and more)
HOLIDAYS  — ENJOY
Saturday, January 8 – 10:00 AM – 12: 30 PM
Saturday, January 22 – 10:00 AM – 12: 30 PM
Saturday, February 5 – 10:00 AM – 12: 30 PM
Saturday, February 19 – 10:00 AM – 12: 30 PM
Saturday – March 19 – 10:00 AM – 12: 30 PM
Saturday – March 26 – 10:00 AM – Noon
As always — class fee INCLUDES the pattern — but if you have it already — just email me and I'll invoice you for the instruction portion only.
There are options for both wall and queen size quilts as well as an optional color / fabric planning session.