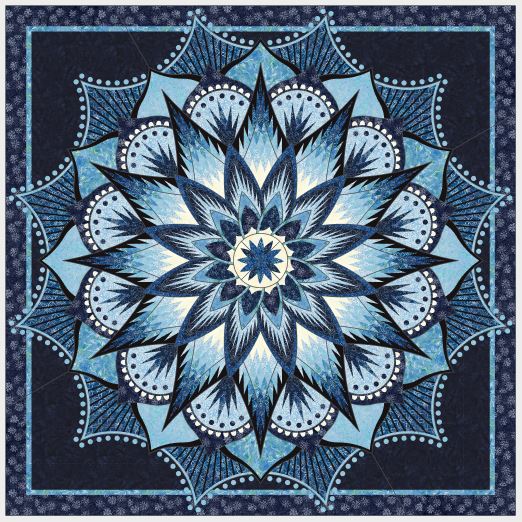 The two quilts – Wall (80″ x 80″) and the Queen (99″ x 99″) include all of the techniques that make Quiltworx special!  From their newprint Template Layout Sheets for fabric prep, to ALL of the sewing foundations — not to mention their detailed and graphics intensive written instructions which make their quilts do-able by everyone — even confident beginners!
The Zoom Series (like all of my classes) will be recorded so you will have access to all instruction and teaching support materials for MANY months after the live class sessions conclude.  And you receive my guarantee to be available for questions and support until your quilt top is finished!
The first class session will be a general introduction to the pattern and the class series.  It will be my goal to help you understand all of the quilt's components, where each of the fabrics go, how to prepare your papers, cut and organize your fabrics and much more.  I'll even provide fabric and bag labels to help you get organized.
Classes will be on ZOOM live but recordings will be available 24-48 hours after each live session.  And look for the additional technique support videos!  All Class times are US CENTRAL.
Class #1 — our Introduction will meet on Saturday, January 21 from 10:00 AM – Noon Central.
Class #2 –  Saturday, February 18 from 10:00 AM – 12:30 PM (lots of time between #1 and #2 to get organized, purchase fabrics, etc!!)
Class #3 – Saturday, March 18 from 10:00 AM – 12:30 PM
Class #4 – Saturday, April 1 from 10:00 AM – 12:30 PM (no foolin' !)
Class #5 – Saturday, April 22, from 10:00 AM – 12:30 PM
Class #6 – Saturday, May 20 from 10:00 AM – 12:30 PM
Class #7 – Saturday, June 3 from 10:00 AM – 12:30 PM
Class #8 – Saturday, July 15 from 10:00 AM – 12:30 PM
I've spread things out quite a bit to allow lots of sewing time so that hopefully by the time class ends you will have your quilt nearly completed!  That's the goal but if it doesn't work out that way — no problem!  Sew as you can and the videos will be there to support you as needed.
My fee will include the pattern — DISCOUNTED!  So if you are purchasing a kit — I suggest you purchase fabric only – so you can save a few $$ on the pattern.  But if you have the pattern — you can purchase just the instruction.
Deposits are refundable up through December 15, 2022.  Payment in full is due by January 10th (and must be received before your pattern will be shipped).  I will invoice for balances due in Mid December – I'll need to know  your pattern size preference.  Patterns will not ship until early 2023 (as soon as I can get them in from Quiltworx!)