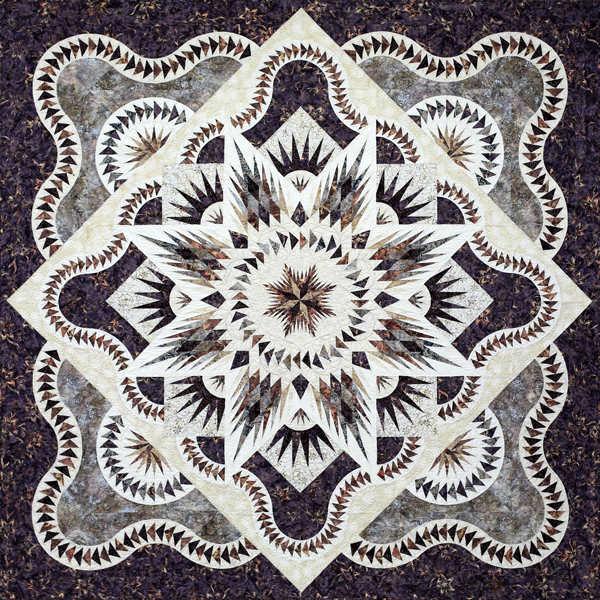 While the original Technique of the Month Quilt – Glacier Star – has been retired, you are not out of luck!
They have replaced this popular pattern with the new ARCTIC STAR PATTERN!  Available in both Wall (68″ x 68″) or Queen (99″ x 99″) — it is surely going to be as popular as its predecessor!
Join me as we create this quilt through the Fall — somewhat like the original Technique of the Month.  Available in Quiltster — you can color and create your own custom colorway — or also sign up for a Quiltster Consultation and I can help you design the quilt you are imagining!
Class meeting dates:
Sunday, August 27:  1:00 PM – 4:00 PM — Introduction – we will talk about the pattern, components, fabrics, papers, bags — everything you need to know to start planning your quilt!
Saturday, September 30:  10:00 AM – 1:00 PM — Session #2 — let's get started sewing!!!
Saturday, October 21:  10:00 AM – 1:00 PM — Session #3
Saturday, November 18:  10:0 AM – 1:00 PM — Session #4
Saturday, December 9:  10:00 AM – 1:00 PM — Session #5 — assembly will be underway!
In addition to the live class sessions, all classes are recorded and remain available for 12-18 months after the final class is held.  Additional support videos, documents and images are also included.  And most importantly — I pledge my support to you from your first stitch until your last one!  Just email me and we can trade messages, phone calls or even 1-on-1 Zoom meetings.  This will be a quilt that you will have help from start to finish!