Four New Patterns Now Available!
These patterns are now available for purchase on our website, and the fabric lines are available in a quilt shop near you! There will also be digitized quilting designs available in the near future.
Many of these patterns are also being prepared for the Quiltster App! If you've never heard of Quiltster, it's an incredible fabric auditioning software that allows you to pick and choose fabrics before you spend money. Look for the Quiltster Compatible logo on the patterns below, and click the quilt images or links to learn more about each pattern, find replacement papers, see samples made by Quiltworx.com and others, find kitting information, and purchase the pattern!
Wholesale purchases are available to those approved with a wholesale account. Visit our wholesale page to order (minimum purchase of 3 and advance approval of wholesale account is required).
---
Sea Holly
65″ x 65″ • Fabric: Bohemian Blues Collection

Part of our Hosta Mixer Collection, the Sea Holly layout includes 5 distinct groups to create a 65" x 65" quilt. The components include a Leaf Center, a Leaf Border, a Clamshell Background, a Clamshell Border, and Background. The pattern was designed by Judy and Bradley Niemeyer from Quiltworx.com.
---
Moroccan Courtyard
72″ x 93″ • Fabric: Gypsy Strip Set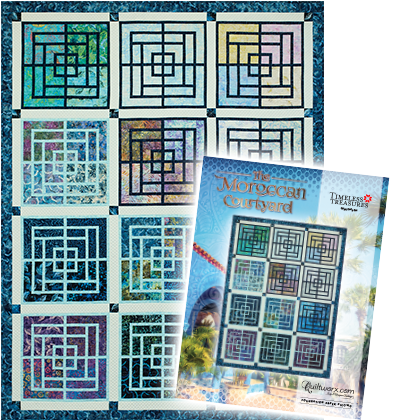 The Moroccan Courtyard was designed as a beginner pattern to introduce quilters to paper piecing. The project is fast, uses only one foundation block, employs simple cutting techniques, and is an affordable and fun way to jump into your first paper piecing project. It is meant to make those new to the process find confidence, understanding, and success.
The cover quilt uses 2-1/2″ strip sets in packages of 48, called Quiltworx Strip Sets, manufactured by Timeless Treasures. These strips are designed, pre-selected, and pre-sorted by Judy and Judel Niemeyer into (6) color groups of (8) fabrics ranging from light to dark.
Play with this project in Quiltster to explore variations on the strip layout in each block. With the different strip layout options, there are literally hundreds of ways to create dazzling effects with this quilt!​
---
Licorice Rope
67″ x 67″ • Fabric: Kaffe Fassett for Free Spirit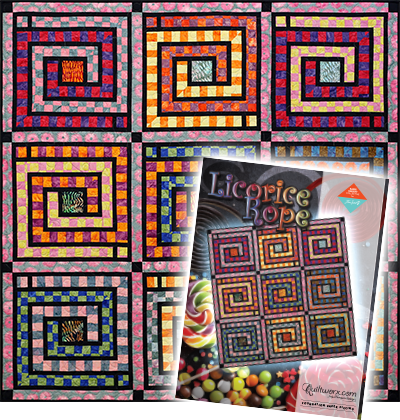 Licorice Rope is another pattern designed for the beginning quilter or anyone who wants a fun quick project. It too uses only one foundation block, has simple cutting techniques, and is a very affordable way to jump into paper piecing. It's also easy to get extra foundation papers to expand the size of the quilt.
---
Tarnished Windmill 2018
60″ x 60″ • Fabric: Jungle & Wallflower Mini Collections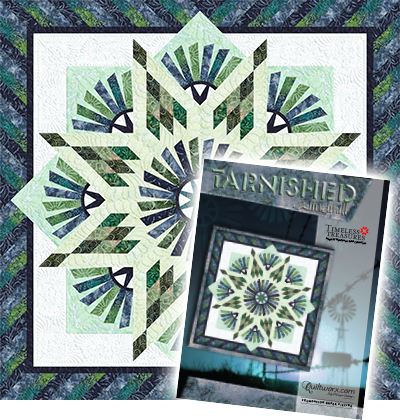 The Tarnished Windmill is a Quiltworx favorite that has recently been redone so that the blocks used in this design can be used with others we've created using Quiltster. We also have replaced the coversheet using current Batik Collections designed by Judy and Judel Niemeyer from Timeless Treasures. The new version is the same size as the original publication, but Unit names have been changed and papers have been updated so that any section of this quilt can be quickly and easily mixed and matched with units designed for many of our other publications to create unique projects.
The star was designed using 3" strips for the strip piecing. It incorporates a paper pieced 10″ windmill block and the general assembly process was designed with no Y-seams. It uses yardage very efficiently at just over 7 yards of fabric for the top!


Announcing the Hosta Challenge Viewers Choice Winners!
Over the last few weeks you voted for your favorite Hosta Challenge entries, and the results are in! With 107 quilts receiving votes and with 614 votes cast, check out the results below!
The winner receives these fabulous prizes: Their Hosta Challenge Pattern and a set of Fat Quarters in Judy and Judel's latest fabric collection, Bohemian Blues, plus, a Fat Eighths package in each of the four featured fabric collections from Island Batik. The rest of the Top 10 get "bragging rights".
VIEWERS CHOICE WINNER!
2ND PLACE

3RD PLACE

4TH PLACE

5TH PLACE

6TH PLACE

7TH PLACE

8TH PLACE

TIED FOR 9TH & 10TH PLACE
CONGRATULATIONS TO ALL PARTICIPANTS!
And don't forget participants, ALL entrants who want to kit their Hosta submissions will receive 25% off when they purchase their kits through Quiltster, by January 12th! To purchase, click on your project in Quiltster, then find the Buy Now button on the left menu bar! Simply click this, add backing and binding if desired, and purchase! Patterns will be shipped from Quiltworx in January and the fabrics will be shipped in February from Thimble Towne Quilt Shop.


2018 Retreat Openings
For all of you Quiltworx and Judy fans, there's still time to sign up for the last few Retreat openings available in Montana. Click on the links below for more information and to sign up.
January #1: January 10 – January 14, 2018
5 Onsite Openings
Jennifer Eubank
Cost: $810
Check-in: 1/10/2018 at 3:00 p.m.
Teaching Days: 1/11/2018 to 1/13/2018
Check-out: 1/14/2018 at 11:00 a.m.
April #1: April 12 – April 16, 2018
8 Onsite Openings, 1 Offsite Opening
Jennifer Eubank
Cost: $810
Check-in: 4/12/2018 at 3:00 p.m.
Teaching: 4/13/2018 to 4/15/2018
Check-out: 4/16/2018 11:00 a.m.
---
We hope to see you soon!