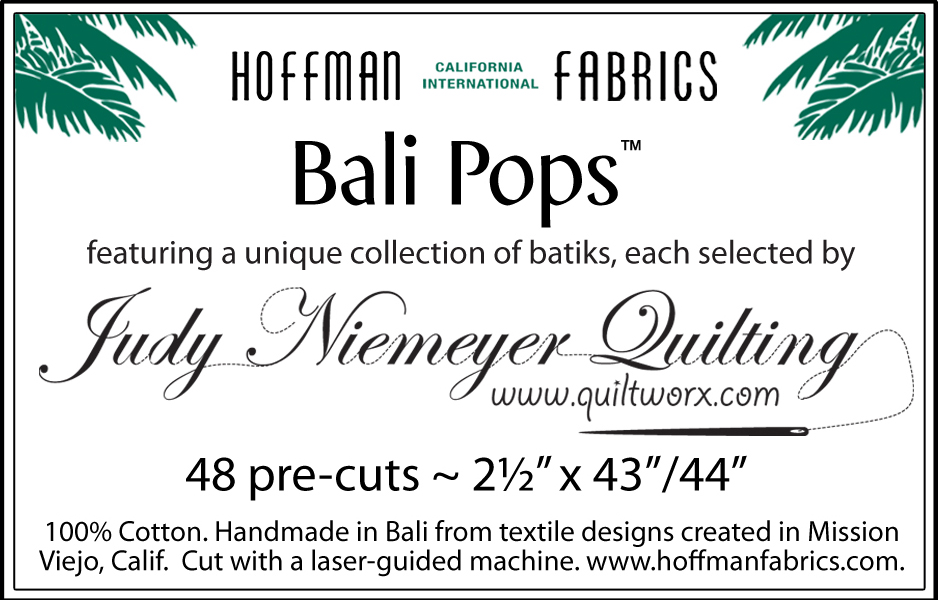 Quiltworx.com and Hoffman Fabrics of California have teamed up to bring you a special collection of Bali Pops hand selected by Judy Niemeyer, meant to complement Quiltworx.com designs, in particular, the Wedding Ring series of quilts. 
These strip sets include 48 Bali Pops in each package, with two unique packages available for purchase.  To see the fabric included in each package, reference the information on this page.  Forty-eight strips are included for the following reasons:
The Bali Wedding Star and Flowers for My Wedding Ring quilts involve strip piecing and are based on (12) sets of (8) strips, for a total of (48) strips needed.  These strips sets are PRE-SORTED, READY TO GO OUT OF THE BOX, and IN THE EXACT COLOR WAY OF THE COVER QUILT!  All you need to do is pick your background fabrics.  We have prepared some fabric information in a variety of background combinations of 1895 Hoffman Batiks to help you select complementary background fabrics as well!          
With (48) strips, you will spend LESS money on your kits!  Instead of 3 sets of Bali Pops for the Flowers for My Wedding Ring, you only need 2!  Likewise, instead of 4 to 5 sets for the Bali Wedding Star, you also only need 2!
The strips sets are selected to provide the perfect colorwash effect for a variety of our quilts!  Patterns that we have used to make new samples using our strip sets include:

Prismatic Star (1 set of any Quiltworx Bali Pops 48 Strip Set)
Gemstone Wedding Star (1 set of any Quiltworx Bali Pops 48 Strip Set)

Bali Bed Runner (1 set of either Group 1 or Group 2)

 

Bali Wedding Star (1 of each…Group 1 AND Group 2, for a total of 2 sets)

 

Flowers for my Wedding Ring (1 of each…Group 1 AND Group 2, for a total of 2 sets)

 

Fractured Paint Box (1 set of any Quiltworx Bali Pops 48 Strip Set)

Stepping Stones (1 of each…Group 1 AND Group 2, for a total of 2 sets)

Garden Wall (1 set of any Quiltworx Bali Pops 48 Strip Set)

The Diamond Wedding Ring (1 set of any Quiltworx Bali Pops Strip Set)

Cappuccino: A Party for 4 (1 set of any Quiltworx Bali Pops Strip Set)
Other patterns that can use the strip sets and may come out in exciting samples in the coming months, include:
 

Grandma's Wedding Ring


 

Forever Yours Table Runner

 

Holiday's Chevron Table Runner (which can be made with the left over ends of the strips from the Fractured Paint Box!)

Bali Fever

 

Raindrops

Confetti

The Captain's Wheel

The Wedding Ring Bed Runner

Weeping Willow

Willow Bed Runner

Japanese Fan
 To learn more about the number of strips needed to expand the quilts above, you will need to reference your pattern. 
Check out our YouTube page for a series of short videos on how to use these strip sets in a number of our quilt designs.   
A gallery of quilts samples that have been made using the strips sets is provided below, and a list of quilt shops where the strip sets can be purchased is provided.  If you are a quilt shop that carries these products and would like to have your name listed, please contact Judel@quiltworx.com and we will get you added to the list! 

   Shops that will be carrying Quiltworx Bali Pops are listed below:
  If you are looking for an instructor that can provide workshops based around the use of our strip sets for a variety of quilts, please reference our Certified Instructor page for a list of instructors that can come to your area!       
                      (Approximate retail price is $52.00 per package)                        
Crafty Threads    Sew Much Fun     Pinwheels and Posies   The Quiltery
Backdoor Quilt Shoppe    Canton Village Quilt Works    Radical Quilts 
Quilting by the Bay   Pat's Creative    Mt. Pleasant Quilt Company  Batiks Plus
Tennessee Quilts      Blue Bamboo     The Quilter's Stash  Batiks Galore
Bolts to Binding    Keepsake Quilting    Hancocks of Paducah    Quilter's Market
Quiltique   JanniLou Creations  Stitchin' Heaven   Park Bench Quilt Shop  
Quilting on the Square   Quilt Mercantile  Wish Upon a Quilt  Quilts by the Bay
Creative Quilt Kits  Alewives Fabrics   Always Quilting   Crossroads Quilting   

NEW Generation 3 Quiltworx Bali Pops!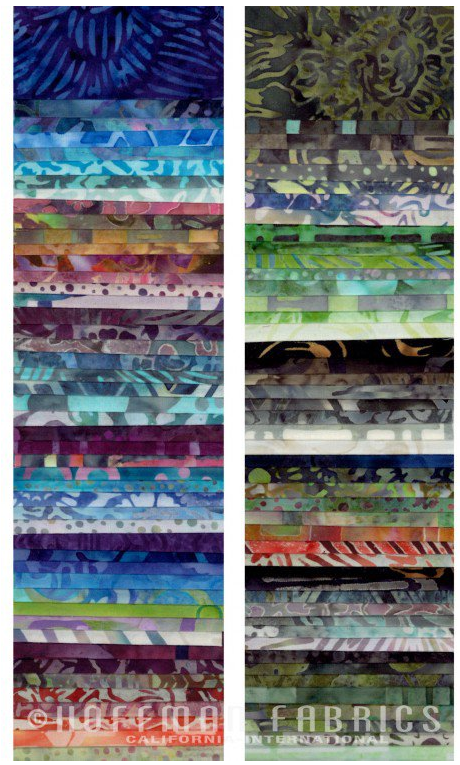 Generation 2 Quiltworx Bali Pops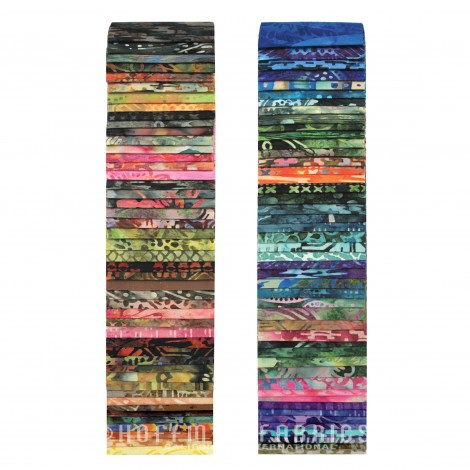 Check out the new Bali Pops used in the Prismatic Star, Bali Bed Runner, Gem Stone Wedding Star, and Diamond Wedding Ring!
Generation 1 Quiltworx Bali Pops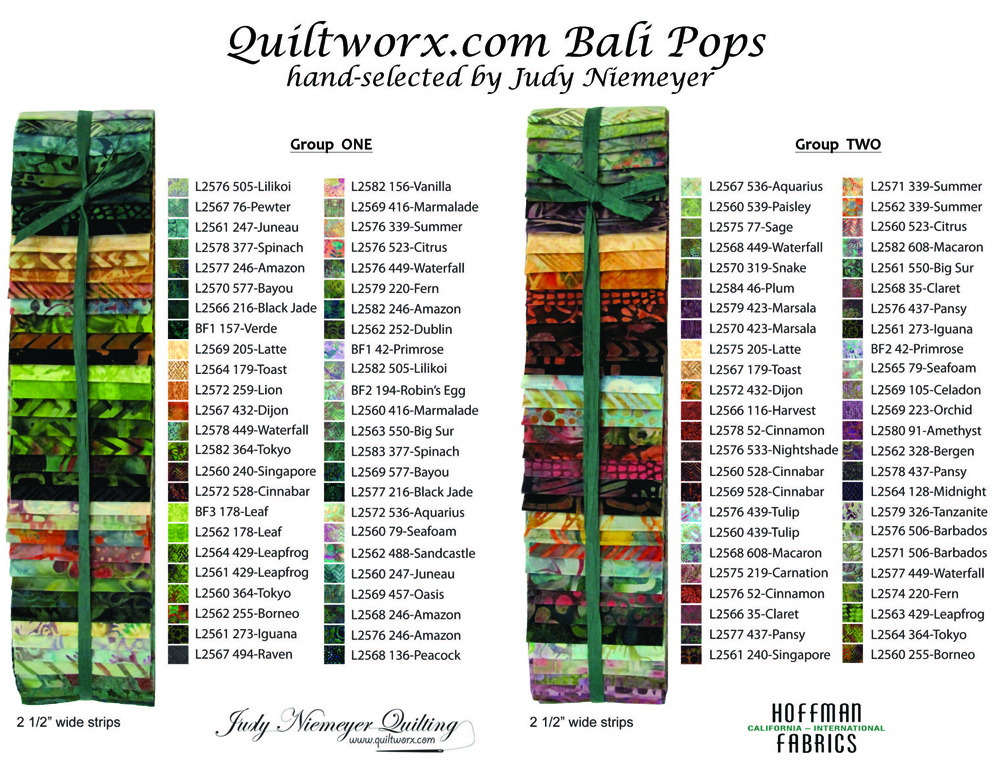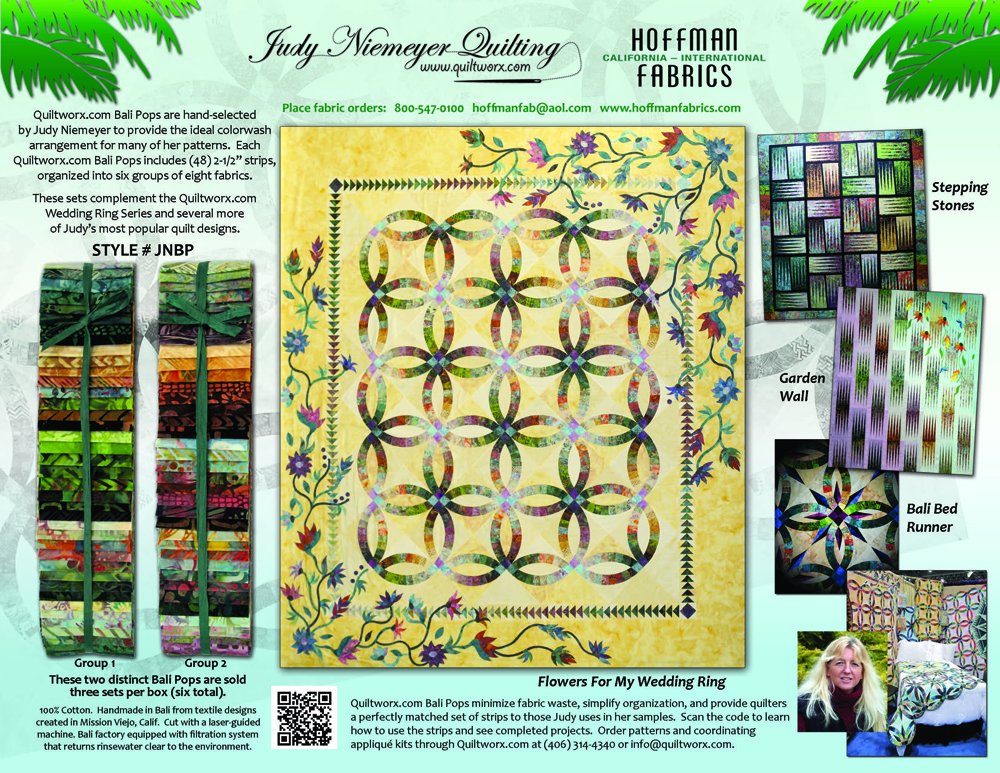 Click HERE for out Bali Pops Pinterest album where you will find the different quilts that can be completed with the Quiltworx.com Bali Pops! Simply click the image in Pinterest, and it will take you to the pattern page!