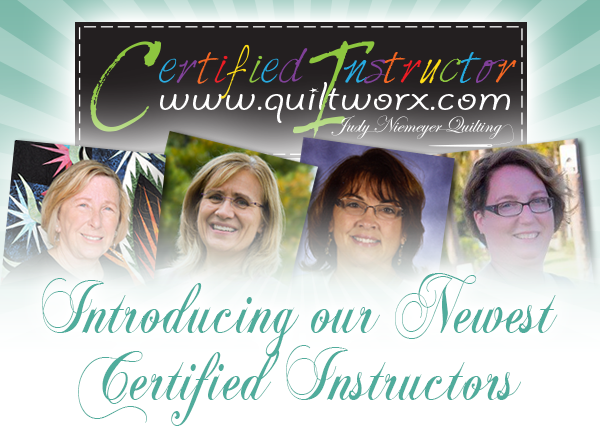 Join us as we start a new tradition of announcing our graduating classes of Certified Instructors (also known as CI's)! Since Judy started the CI Program in 2010, we've had over 80 graduates worldwide, and expect many more in the years to come. With so many wonderful quilters willing to share their knowledge with you, we thought we'd start introducing them!
But first…what are Certified Instructors, you ask?
They're quilters who (after becoming addicted to Quiltworx.com patterns) have opted to train with Judy Niemeyer herself here in Somers, Montana, over a one to two year period learning to teach our patterns. In an effort to meet the demand for teaching our techniques, Judy has been sharing her expertise with qualified quilters from around the world. We're focused on teaching a network of professional instructors who are highly skilled, familiar with our company, products and staff, and are interested in maintaining the high standards of teaching Judy has established over the years.
These instructors are available to teach classes at any quilt shop and are a resource for our Technique of the Month program. Get unmatched workshop experience by taking a class or booking them in your quilt shop today!
Click on the links below to view more information about each instructor along with their gallery of quilts, and certifications.
Ann Troutman • Tampa, FL • 813-477-7152

Ann's love for sewing was sparked when she wanted to join 4-H, but the problem was she didn't know how to sew. Thankfully her godmother Margaret was there to help, and Ann has never stopped listening and learning. Ann saw her first "Judy" quilt at a lecture on color at the 2011 Houston Festival and couldn't tear her eyes away. Upon returning to Tampa, she looked for a class, but the closest one was four hours away and the class was full. Fast forward to Spring of 2013 when she took her first class, Split Log Cabin…she was hooked. Since then she has continued to take classes, and is thrilled to have the opportunity to inspire others in their journey of Judy Niemeyer paper piecing.
Julie Burger • Oswego, NY • 315-529-4972

Wife of 36 years, and mother of four grown children, Julie has been quilting since the 1990's. A talented seamstress and long arm quilter, she established her own quilting instruction business called Quilting with Passion, specializing in Quiltworx patterns and techniques. She teaches quilt classes at local quilt shops, does trunk shows and retreats for groups and guilds. Whether you're a new or experience quilter, if you're interested in a fun social sewing experience, contact Julie!
Nancy Kloster • Saint Clair Shores, MI • 586-294-6547

Nancy has been quilting for more than 25 years and was drawn to the efficient and organized process of paper piecing the "Quiltworx" way. She has been teaching over 5 years and her students love her calm personality and ability to teach all levels of students. She enjoys all aspects of quilting from selecting fabrics to longarm quilting, and MOST OF ALL, teaching. She loves to see her student's project come together, and believes every student can succeed and gain confidence as they complete their projects.
Sharon Ralph • Naples, FL • 407-222-8217

Sharon learned how to sew in 4-H as a child, and years later, after taking a quilting class from one of our Certified Instructors in 2014, has been hooked on Quiltworx patterns and techniques ever since. With over 37+ years of experience in education, Sharon is uniquely qualified to bring the art of Quiltworx paper piecing to both new and experienced quilters alike!
Whether you're a quilt shop interested in bringing our addictive Quiltworx patterns to your shop, or an enthusiastic quilter interested in learning how to paper piece, our Certified Instructors bring a wealth of experience, tips, and organizational tricks that make learning and completing our quilts efficient and enjoyable. Look for an instructor in your area here.

Stay tuned as we feature our other
Certified Instructors in future newsletters!

If you've already caught the Quiltworx bug, and are interested in more information on becoming a Certified Instructor, click this link for a PDF document that outlines the process and how to contact us.