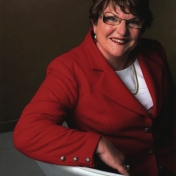 Joanne Wearing
Shop 1 207 Morayfield Road
Morayfield, Qld 4506
Phone: 61 7 5429 8240
Fax: 61 7 5495 7300
Bio
Joanne has been sewing since her early 20's and is primarily self-taught.  Finding a love for dressmaking and becoming more proficient at her craft, Joanne has a keen eye for detail and paid particular attention to finishing details with her garments.  Progressing from dressmaking and home wares made for family and friends, Joanne progressed to featuring and coordinating Fashion Parades for School Fundraisers.
Due to the success and demand for her work and designs, Joanne launched her own private dress label.  These 'one-off' garments were custom designed and made to order.  As the demand for her work grew, Joanne streamlined her market towards Evening and Bridal wear.  This work in particular netted a great deal of personal satisfaction.
The idea of patchwork and cutting fabric into small pieces just to re-join it was somewhat confronting to begin with.  Joanne got her first taste of patchwork and quilting when she was asked to Applique the border of a friends quilt, this was the beginning of a dedicated passion for the art.
After completing a beginner's class, Joanne's 2nd project was a foundation pieced twisted log cabin with over 4000 pieces.
In 2006 Joanne, jointly with her daughter Danielle, purchased was it now known as Sew This & That, a store dedicated to Patchwork and Sewing.  The store is located at Morayfield in Queensland which boasts a comprehensive class schedule covering all aspects of sewing.  Joanne is the advanced Quilting & Patchwork Teacher in the store and dedicates her time to developing the comprehensive classes she represents.  Joanne also teaches at local Quilting Guilds and has represented the Quiltworx label at industry trade shows.
After discovering Judy's patterns whilst on holidays in Alaska, Joanne contacted Judy directly and promptly found herself enrolled in one of Judy's famed retreats.  There she completed her prized Amazon Star & Glacier Star quilts.
After returning from that trip, Joanne has not stopped growing her Trunk Show of Judy Niemeyer Quilts.  Fast becoming the Australian expert for Quiltworx, Joanne is proud to be the first Certified Instructor in Australia.
Gallery
[fts_facebook id=10155772872762160 album_id=10155772872762160 posts=12 title=no description=no words=0 type=album_photos image_width=150px image_height=150px space_between_photos=1px hide_date_likes_comments=no image_position_lr=-0% image_position_top=-0% loadmore=button popup=yes hide_like_option=no ]
Sorry, there are no classes scheduled for Joanne Wearing at this time.