Bio
I have been sewing my most of my life, whether it was clothes, curtains or stuffed animals. Sewing has made me feel fulfilled; it's been a stress reliever and a very enjoyable career. In 1994 I took my first quilt class and found my passion. My love of sewing took me in a new direction that I hadn't explored before. I started working in a quilt shop in 1998 – selling fabrics, helping customers, cutting kits and teaching classes. I really love teaching how to quilt and helping students get that "aha" moment is a joy. I have explored different techniques for quilting – applique, wool, hand dying, designing and many more. All have been valuable learning experiences and have helped me become a better quilting instructor. In 2015 I took my first Judy Niemeyer class – Cactus Flower Table runner. I found I really enjoyed this style of paper piecing and have to this date worked on 25 or more Quiltworx patterns. I am always finding more patterns I want to explorer. Some of my favorites have been Tea Leaf Table runner, Prismatic Star, Coral Reef and Feathered Star. I started teaching classes using Quiltworx patterns in 2018 and found that there are a lot of students that are excited as I was to learn Judy's method for paper piecing. I like helping the students plan and find the perfect fabric for their quilt. Showing them how to use Quiltster to achieve that goal is exciting.
I'm available to teach classes in the Puget Sound region and have no problems traveling. I would be happy to talk with you about classes for your store or retreats.
Click on the images below to find Cynthy's gallery of quilts on Facebook!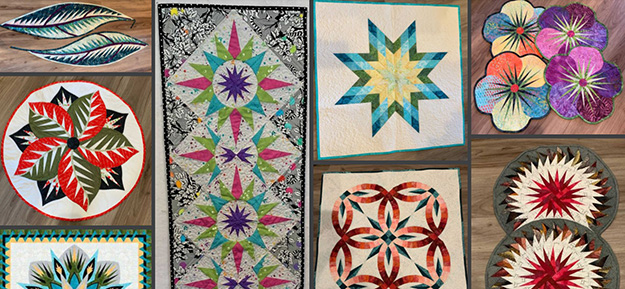 Sorry, there are no classes scheduled for Cynthy Kram at this time.