Quiltworx Classes
Dinner Plate Dahlia by Quiltworx/Judy Niemeyer
With Certified Instructors: Flo Bradbury and Ann Troutman
Eight sessions on Mondays in 2019 from 10am-4pm
2/25, 3/18, 4/1, 4/29, 5/20, 6/3, 6/17
Join Ann & Flo on a few Mondays and let them show you how you can make this paper-pieced beauty.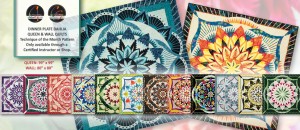 Every other year Quiltworx produces a pattern they call a "Technique of the Month" project. It is designed in sections that start from easy to hardest. These patterns have always been show stoppers and the Dinner Plate Dahlia is no exception. It is awesome and if you can sew a straight line, YOU can do it.·         The Wall version finishes 80" square – pattern is $96 including special ruler·         The Queen version finishes at 90" square – pattern is $119.50 including special ruler

Patterns will be available in January, but we can color yours in Quiltster today. Kits are available at Inspire! Let us customize yours.

CLASS FEE: $320 SKILLS: Confident Beginner

Students always receive 15% off purchases for classes at Inspire!
Supplies:·         Pattern – Dinner Plate Dahlia by Quiltworx (includes paper foundations)·         Fabric as indicated on pattern back – colors are your choice·         Scissors – both paper and fabric·         Rotary cutter and extra blades·         Add-A-Quarter Ruler 12" or 18"·         6" X 18" ruler and medium cutting mat

·         Seam Ripper

·         Scotch Tape

·         Fabric Glue Stick &/or Glue Pen (we like Sewline or Bohin)

·         High quality cotton thread 50 or 60 weight (we like Aurifil) in a neutral color

·         Large uncoated paper clips (lots)

·         Gallon baggies & Sharpie marker

·         Flower Head pins

·         Sewing machine in good working order with ¼" foot, power cord, foot pedal
Prework:·         Cut out all of the paper foundations ¼" outside marked lines.·         Refer to pattern instructions for numbering bags and what goes in which bag.·         Are you prewashing? Wash and press all of it. Never start a project with some pieces washed and some not. Iron with sizing, starch or Best Press will give the best results
Optional but good to have:·         Purple Thang·         Size 70/10 Microtex or Sharp needles·         Ink pen or pencil·         Personal iron and pressing surface
We are excited to bring you our retreats for 2019!  This event is an event with Certified Instructor Jennifer Eubank.  Our events are open events meaning you are free to bring any pattern that Quiltworx.com has designed to work on while attending your retreat.
This retreat will be held at the Quiltworx Training Center, which is located at 100 Lincoln Lane, Kalispell MT.  The Quiltworx Training Center is a full-time retreat center, so you will be required to pay a 7% bed tax. This tax will be paid at the end of your stay during checkout.
Our June #2 Retreat will include:
Check-in: 6/16/2019 at 3:00 p.m.
Teaching: 6/17/2019 to 6/20/2019– 4 days of teaching
Check-out: 6/21/2019 at 11:00 a.m.
For this retreat, the Quiltworx  Training Center Retreat schedule will be as follows:
The first night after check in and dinner you will have a trunk show.
The retreat will include four days of teaching with Jennifer Eubank.  You will receive 6 hours of instruction on the teaching days.
PAYMENT INFORMATION:
An initial deposit of $150 is due upon signup for this retreat and is NON-REFUNDABLE.  A second payment of $150 will be required in November 1, 2018.  This payment is also NON-REFUNDABLE.  Final Payment is due in March 1, 2019.  For more information read our Cancellation Policy PDF on the main retreat page.
Air Transportation:
Northwest/Delta, Alaska, and United/Continental to Airport Code FCA
Glacier Taxi can provide Shuttle services to and from the airport to the Quiltworx Training Facility. Their number is 406-250-3603.  Please call them for pricing.
For more information on Quiltworx Training Center Retreats, please click on the PDF files that are included on the main training center page.
In addition, you can sign up for our newsletter on our website for more information and visit our Facebook Page. Our Facebook Page has lots of retreat information!
Thank you for your business and continued support of Judy Niemeyer Quilting!
iCal Import