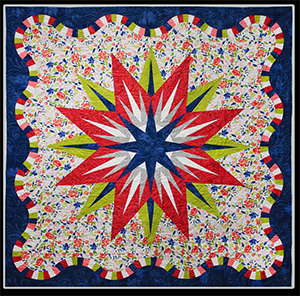 Quiltworx Vintage Compass 3-Day Class,  October 13, 20, 27, 2021, 9:30am – 3:30pm |
Create your own beautiful 62″ Quiltworx VINTAGE COMPASS quilt using the foundation paper-piecing technique during this in-person 3-DAY class (Oct. 13, 20, 27, 2021) with Quiltworx Certified Instructor, Carin Brimley. $100 includes 3 classes. Does not include fabric or pattern. Registration is required 48 hours prior to the class. Minimum 4 students, 12 max.
There are so many coloring options! If you'd like Carin's help using the Quiltster program to color your quilt, please email us at fabric@bfranklincrafts.com as soon as you register for the class so we can schedule a 1-hour coloring appointment.
A fabric supply list will be emailed to you after we receive your registration. If you have any questions, you can email us at classes@bfranklincrafts.com, or visit our in-store customer service counter, or call us at 360-794-6745 and ask for Maryn.
Coronavirus Requirements & Precautions: All classes are subject to current state and local guidelines. Please refer to our website for current information.